Hi everyone!
Just read the 2012 Emmy nominations and my favourite, Downton Abbey, has been nominated for MANY emmy awards!!! 16 in all!!
Our favourite house has been nominated for best drama!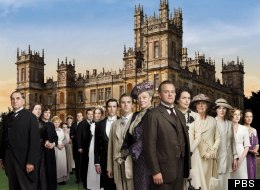 Hugh Bonneville, stalwart Lord Grantham, albeit with a straying eye, has been nominated for Best Actor. I have a bit of a crush on him..
Michelle Dockery - fiery first daughter Mary Crawley, has been nominated for Best Actress
Joanne Froggatt, long-suffering housemaid Anna Smith to the Crawleys and doomed bride of Mr. Bates is nominated as Best Supporting Actress:
Brendan Coyle, equally long-suffering Mr. Bates was nominated as best supporting actor: love that accent....
as has Jim Carter, who plays firecely loyal Mr. Carson, the Butler.
And finally, my great love, Maggie Smith, who chews the scenery and spits them all out in every scene she is ever in:
Violet, Lady Dowager of Grantham
I am so excited to see these well deserved nominations!!! This is acting at its finest and I cannot wait for season 3!!