I went back to work for the afternoon today; my brother has been in town and so I took an extended long weekend to enjoy some time with him and my nephew. It was a shock to go back to work after 4 days - what is it about summer that makes us want to lay about and read frothy books and drink light wines?

J Crew Porcelain Paisley skirt here, pink taratan blouse, stuart weitzman sandals from last year, kersh white cardigan, fake tan - l'oreal

In honour of going back to work (or is that in spite of?) I decided to break out the procelain paisley pencil skirt. Oh I know - EVERYONE has one and EVERYONE loves them and you know what? I do, too! I have a wonderful PS, Sydney, who put this order in first thing on the morning it came out. And then I waited by the mailbox (well that is actually a lie; JCrew comes via the Purolator man and he and I are very chummy and he does not judge. I also like that I am one of his last stops of the day. I like to think he does not want to get the package wet..) and when it came, I was happy!!!! And then it rained and it does not seem to go with the rain (are you starting to feel like this is the Grapes of Wrath or something?) so I have had to wait for the sun again.
I wore it with a beautiful sleeveless tank I bought this summer from Pink Tartan. It is netting over a cotton tank and it is lovely (see below for my attempt at showing detail). I have searched high and low on the internet so I could show you and it appears that I got the only top this company made this year! Actually, I really love Pink Tartan - it is a Canadian Company and it is just lovely. I will do a blog on them someday soon! The sandals are a pair of pewter-coloured stuart weitzmans from last summer which are cute and make me happy on a hot summer day!

My attempt at showing the netting details; you will see I have moved back to the washroom for this action shot and removed the sandals so I could be extra comfortable!

I also placed an order today from JCrew - I have been stalking these pants for months. I know, the sale was not great, but I just truly love these
pants
...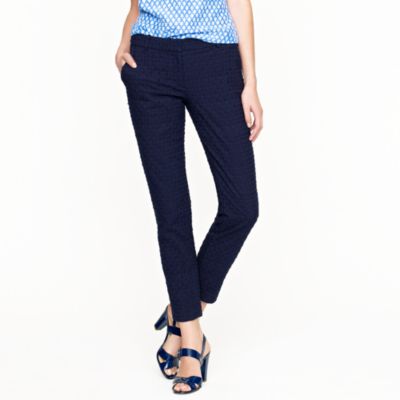 I could have waited till the next 30% off, but I was afraid of the dreaded final sale....But what should come with them? You do understand that JCrew items must never travel alone? Safety first and stick with a buddy! I hemmed and hawwed and dithered about the following two items, the first of which can be found
here
: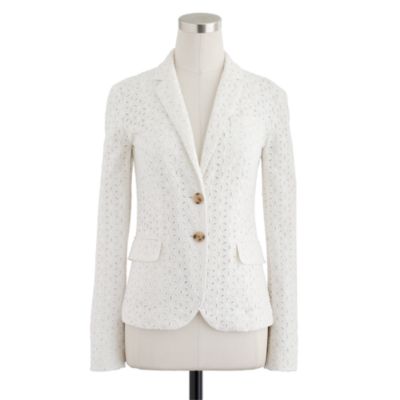 The ivory schoolboy blazer, which I had watched for a while, and then checked the Mothership first thing this a.m. and read a review that said this looked slightly old-ladyish. As someone who is heading in the general direction of old-ladyish, I was stopped in my tracks...What to do???? I am still wondering this - so all advice is helpful!
and then there was this beauty, which can be purchased
here
: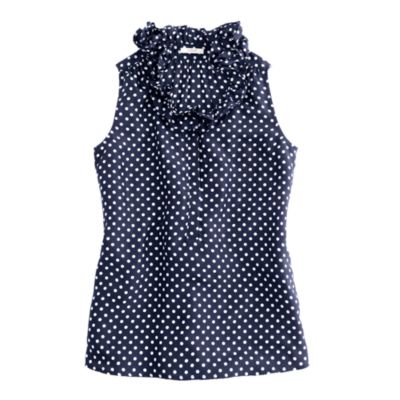 The Naomi top in polka dot. Even her name says "I am cool". She screams cool, calm and collected and can be dressed up or down. And she wasn't on sale and I am pretty sure she doesn't need to be ever, because well, she is just that lovely... And yes, she will come with the pants and my purolator boyfriend will be happy as he will have another excuse to drop by and I will look tres jolie in this delightful outfit....
But my question of the day is: would the eyelet be frumpy? Too JC Penney-ish? As I have told you before - I often fly to close to the sartorial sun and must always rein myself in!
Have a wonderful day!