J Crew Floral cafe capris, Joe Fresh striped tshirt. It is like they were meant for each other!! I think I am wearing sam edelman flats here...
I do like capris. I do not shy away from the printed pants, though I do favour a floral motif.....
This is a picture I took in the early spring to share with Miss Tabitha, who also owns same said pants and thus in my head is part of the sisterhood of the floral pants. You know from a previous post, I love floral pants. I have loved them since grade 5, when I got a pair of wrangler jeans with little blue flowers all of them. It was the early 70s and I felt quite cool in the them.
I love these pants and the way JCrew styled them here: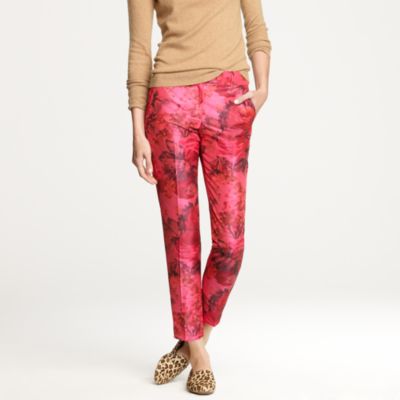 Now I am looking at these and thinking I need those darby loafers in leopard print...
My lucky pants again (I am wearing them again this Friday night and got my new Naomi top in champagne today which I think will look divine!

Other floral pants which I love or covet:
Alice and Olivia - Imagine if I was tall! You can buy them
here
. These scream The French Riviera, yachts, head wraps, martinis and even a bit of Bianca Jagger!
Or try these wonderful ones that Ema sports (if you are so lucky as to find them!):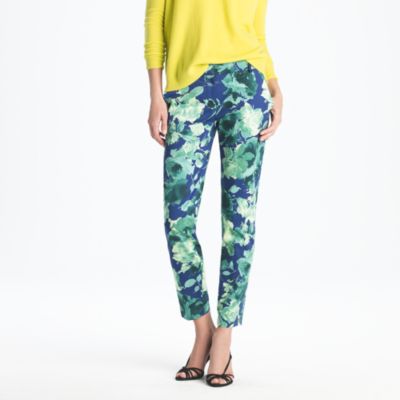 I am watching for these to popback on sale....
Finally, Chris over at the wonderful "A Littel Crew-zy" blogspot shared a link to Net-A-Porter's fall preview
here
and if I was very wealthy, these would be the "three things" a la Dani that I would add to my closet this fall (at least for today...):
Embroidered velvet loafers by Alexander McQueen - Get them
here
before they sell out as they are only $695!
Preen
Eva metallic cotton-blend and lace skirt
$1,030
A bargain at twice the price!
And finally, Not on the Net-a-porter site, but from the JCrew Fall 2012 lookbook:
AH - DIVINE!
Have a most happy Tuesday!