After what has seemed like quite a long time, the dresses I bought a few weeks ago were finally ready. So I gussied myself up to go and pick them up! Though I am having a decidedly casual Spring, I like the idea of dressing up to run errands in town. Plus I wanted to get my red dress altered, so wanted to have bare legs and my wedge heels.
Today's outfit is an oldie, but a goodie: the schoolboy Morse code blazer, which really can only be worn in Spring or Fall due to its heavier weight, last year's pencil skirt in the bright pear colour and my Pink Tartan blouse with the bow tie collar. I am a sucker for those little details, and I wanted to do a little pattern mixing. I wore this with my Tory Burch wedges, which were very comfortable for walking around downtown in.
Close-up with blouse:
This outfit was dressy enough for my old job and it was fun to be a little fancy after mostly living in jeans lately. My daughter and I went to return all of the books she had borrowed from the university library first, mailed a package, sent her old, salt-laden Uggs off to Montreal to be refurbished (for $50 which I consider a steal compared to buying her a new pair!) and then went to the shop to pick up the dresses.
I am very happy with the dresses. The first dress is a simple black vneck linen dress. I did not have a black dress for summer and I have wanted a linen one. There is a viscose lining and it is very comfortable.
The dress is a-lined and has a little row of ruffles on the bottom above the straight hem and around the vneck, which makes it look dressier if you want to wear it dressier.
I paid less than $100 for this and consider it a good deal and imagine it will get a lot of use this summer.
The other dress is my new Nougat London dress. I really am crazy about Nougat London; they make interesting clothing that has a timeless appeal to me. This dress is a cotton shift in a watermelon/white print with a vneck again - yes I am listening to you ladies!
It has been perfectly altered to me, which is very nice indeed. The back of the dress has an exposed zipper, which I quite like, but I know that is a show-stopper for some of you!
It is 100% cotton and a very sturdy cotton at that.
And on:
It actually looks more flattering than this in real life, but I was too lazy to go find my daughter to take a picture!
There was one more goody in this shopping spree of a couple of weeks ago: A pale pink top by Nougat London:
100% cotton with little appliqued and crocheted flowers.
This is just the kind of piece that I am always drawn to and that Nougat London does exceptionally well. It's what the love child of a meringue kiss
And Battenburg lace might look like...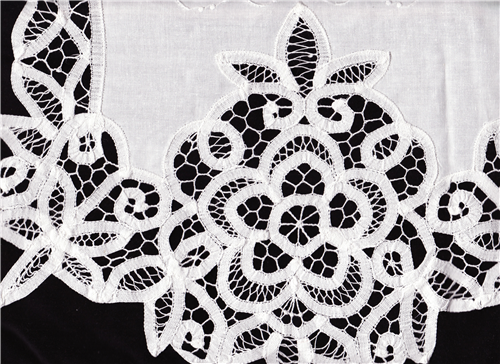 When I brought it home and introduced it to the closet, guess what it decided it wanted to meet first? The pompon pants of 2012!
Flowers echoing flowers, tone on tone. I sort of felt like I was channelling my inner Ema!
Well then I had to look and see what shoes it might want to meet.
There seemed to be a great camaraderie with the vince camuto rose gold sandals as well as a lovely pale pink pair from J Crew from a few years ago which have held up remarkably well.
When the Kersh cardigan showed up it was old home week. The top has expressed interest in many other items in my closet as well and I plan to start rotating this right away, now that the weather is warm!
After the excitement of picking up the new lovelies, I went in to have the red dress altered. My tailor is a lovely Romanian immigrant who is very blunt. "This is a crazy dress with too many pieces." she told me, pinning here and there. "This dress is too big in some places but the wrong places!" Finally, she figured out how to fix it and sent me on my way. It was quite a morning!
All in all, I feel quite set for summer. I really hope the white skirt works, as it would go very nicely with many things, including my two new Nougat London tops. I will cross my fingers!
Have the loveliest of Tuesdays and stay safe out there!