Hi everyone!
I read an interesting article this weekend, thanks to the blog
Political Style
, which often shares links to interesting online article.
The article,
Why women should stop trying to do it all
, throws its hat into the ring of recent debates about women who work, women who stay at home, yadayadayada. The premise is simple - we are being too hard on women and we are constantly in the attack and compare mode; we need to recognize that having it all is not necessarily desirable or attainable. This month's
More
magazine has an article on the
Mommy Wars
. These kinds of articles are cyclical it seems to me now; tied to the release of a book such as
Lean In
by Sheryl Sandburg and conveniently linked to the CEO woman of the hour who is being criticized for something.
I never noticed these kinds of articles before I had children. Like all things in life, it is only when one gets pregnant that suddenly everyone else
is
pregnant, it is only when everyone else is deciding to work or not or how hard to work or not or how high we want to go up the food chain at work or not that we suddenly find ourselves suceptible to these books and articles that encourage us, abuse us or tell us to take a chill pill.
My husband has NEVER had any of these conversations. He has never fretted over a cocktail with another man about whether he should or should not "go for it". He was (and still is) a great father and did half the housework and did whatever he could do while we both worked. He never felt guilt nor did he ever expect to feel guilt. Granted, this is a man who reads magazines about airplanes so it isn't like he thinks about this kind of thing.
This, I think, is the inherent contradiction. Whether through natural aptitude, or socialization, women tend to be creatures who do care about things domestic. And to be fair to ourselves, we haven't been in the paid workforce for a long time in the grand scheme of things and most importantly, our social institutions have not kept pace with our societal change. If we had universally accessible, affordable, good quality child care, if we had employers that didn't think it was rare for an ambitious person to leave the office by 5:00 or 5:30 because not only did they have children, but they had a
life
, some of the angst would slowly begin to slip away. And perhaps that isn't even possible, since so many of the top jobs really do require people who must be available for long days, evening events, etc. And whether you are a man or a woman in these top jobs, you give up something (in my case, time for friends, time for exercise, time for peaceful reflection) that you may or may not miss later.
I have seen huge advances in the last 20 years; I suspect that in another 20 or 30 years it will be even better. I didn't like the title of the article "Why Women Should Stop Trying to Have it All", though I know it is copy written by a clever editor to draw us in. Even the author herself exhorts us that it is okay not to "have it all" so long as we are content with having lives that matter. I for one, am officially swearing on all that is holy that I will NEVER EVER use the term "having it all" again.
But speaking of copy editors, and to change the tone of this post from slight rant to something much frothier, am I the only one who saw the little article in the J Crew Blog last week about two of their men's buyers and one of their copy editors going out for
lunch?
Her name is Coco! And she is British!!!
OMG - I thought of Fred right away!!!!! I think she is even missing a comma up above!!! Oh I am giddy with delight! She is as cute as a button and now I know why some of our copy is as it is: she is too busy lunching with the boys, and on the company tab to boot!!! Lest you think I am being mean, I swear I am not. I am just so darn tickled that we finally get to see one of our regular topics/bugaboos come to life. It's as if someone tells you that there are things called pandas or Kardashians, but you don't quite believe it till you see one in real life for yourself!!
And finally, I would be remiss if I did not acknowledge the passing yesterday of Lilly Pulitzer, the grande dame of all things colourful and delightful, who made pink and green de rigueur for so many of us!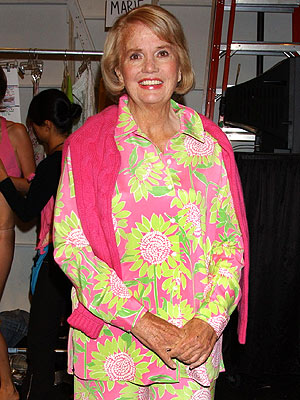 Lilly made fashion, and our lives more colourful. You could not help but smile at the sunny, optimistic prints. She was the epitome of 60s in my mind, and certainly her style has had a huge comeback recently, the simple shifts a delight for summer weather (as well as cruises, and those wonderful vacations in Florida!).
Even golden things must pass, but I am already sure that Lilly has some swatches out and is working on some new frocks with even more heavenly hues.
So that is my Monday. I never got pics taken of the jacket I bought yet! Jeepers Creepers! On the positive side,
The Cherry Orchard
was grand and my son can play the part of a drunkard on stage rather convincingly...
Have a great day and stay safe out there!!! You will note I am now posting at 12:01 Atlantic time, for all of my middle of the night readers....