Oh dear.
Old habits die hard.
As you know, I have put myself on a clothes budget for both fiscal and self-reflective reasons. My closet was the burial ground of fads and things I "thought" I needed. I am trying really hard to stay on track. And as you know, I just purchased some lovely things a couple of weeks ago that had me borrowing against my may and June clothing allotment (and by the way, those alterations are still not complete! I had to call this a.m. To remind them about me!).
But then the companies have new releases and then other people start buying things and I think " hey, I could use that, too!"
Today was one of those days. I got home from the memorial service (hmm, do you THINK my shopping is ever stressed-related? Someone call Dr.Freud!) and was looking at the blogs and the JCrew and Madewell sites and started seeing things I needed.
But of course I didn't
need
them. For 2 hours I mindlessly surfed sites and put things into virtual shopping carts. 2 hours! I could have read a book, solved world peace and learned to crochet in 2 hours!
I eventually placed an order for the following things:
The Marina mini-wedge espadrilles in chambray: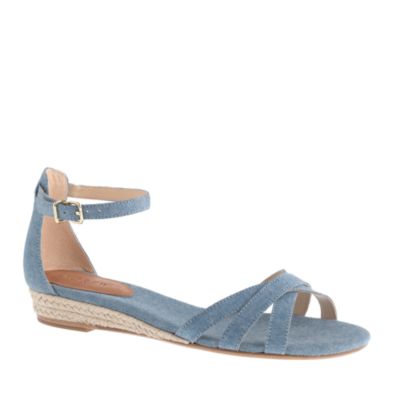 Now this might be a gap, but how would i know as I haven't gotten my summer shoes out yet!
The daisy lace mini. How cute would this be. Size up a size and it goes to the knees. I was imagining it and the shoes above with the lovely Nougat London Boho top I recently purchased.
Oh and I was pretty sure I needed this tortoise shell bracelet, too!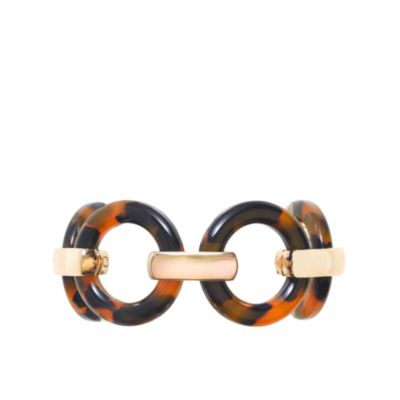 So I placed the order, then 10 minutes later, I cancelled it. I love clothes. I would even describe myself as bing mildly obsessed with them!
But I wasn't shopping because I had a gap (though I am pretty sure those espadrilles might fill a gap!). I was shopping recreationally and I was shopping mindlessly. I was shopping because I was seeing things on others that I wanted to be a part of too! Every new sale and rollout does not require my participation and the difference between 30% off and 25% is miniscule and does NOT require a decision of what to buy at that very moment.
I am sitting here writing this post and looking at my closet, which I perceive to be bulging. I have enough for the summer from my purchases to date this year and from previous years. In fact, I would say I have more than enough. Even if the espadrilles are a gap, I can live without them. At the very least, I need to think seriously about them before I buy them.
So I will keep on keeping on. I know we are a whole culture built on consumerism and that my struggles to cut those ties will require vigilance and an ability to live vicariously through others' purchases! I would love to hear about how you make out with all of this. Do you ever buy things you wish you hadn't bought or don't need?
On a decidedly less whiny note, the memorial service at the nursing home was lovely. The head nurse became visibly choked up when she described each deceased resident in turn; she had a little story to tell about each one that was unique and personal. The folks at this place were lovely. I am not sure if I told you this before, but in the 2 or 3 days prior to my day's death, we had been playing Christmas music for him and telling stories. The night he died I had gone home for a couple of hours to sleep and shower. All of a sudden, he started to pass away, and they called immediately for us to return, which is approximately a 10 minute drive. While they waited for us to arrive, and as he passed from this life to the next, they put on his favourite Nat King Cole christmas music for him to see him out as they knew that.'s what I would have done. That is a kindness and generosity that always humbles me. In the perfect world being born can be a wonderful, joyful experience. The same can also be said of dying when one is old and one is supported by people who want to make it a loving, positive experience.
What's on tap for today? I am running to take my car to the shop to get the winter tired off and then I may do housework today as the next two days are supposed to be lovely and I could get a lot more of spring yardwork done. What about you? what are you up to this fine day?
And for those of you who did buy yesterday: today's post is no judgement of that at all - this is just my stuff that I am working through! And I feel better having written it down! ;-)
Have a great day and stay safe out there!