Well, we had a gorgeous weekend. I spent half of it in the yard, still cleaning out flower beds, and have a few more to go today. Today, the temperature is slated to hit 70F/20C and I think my new dresses may finally be ready from the shop, nicely altered for me. I am also planning to take my red dress in to get taken in a bit as per all of your advice last month when I picked it up in NYC.
When you live in a place that is freezing cold for 6 months of the year, cool for 2 and really only warm for 4 months, you tend to get giddy in the early days of warm weather. Honestly, I feel like running around to find a sailor to recreate this famous photo of joy:
Yes, I have spring fever.
I am also getting ready for visitors. You know I have a bit of the geekiness about me. One of my favourite things in the whole world are the hummingbirds that spend the summer with me. Yes, they spend the summer with ME. I am quite sure they know all about me and likely read this blog in the winter months when they live elsewhere and were probably thrilled that I have posted the odd photo of them:
My feeders have been up for a week and I have been faithfully reading the hummingbird migration
map. You don't read the hummingbird migration map? Well you can do so
here
. It is great fun to see them coming along the eastern seaboard. And yesterday, someone in my neck of the woods reported seeing a hummingbird at their feeder! You can see the Canada map below for the arrival of the ruby-throated hummingbird.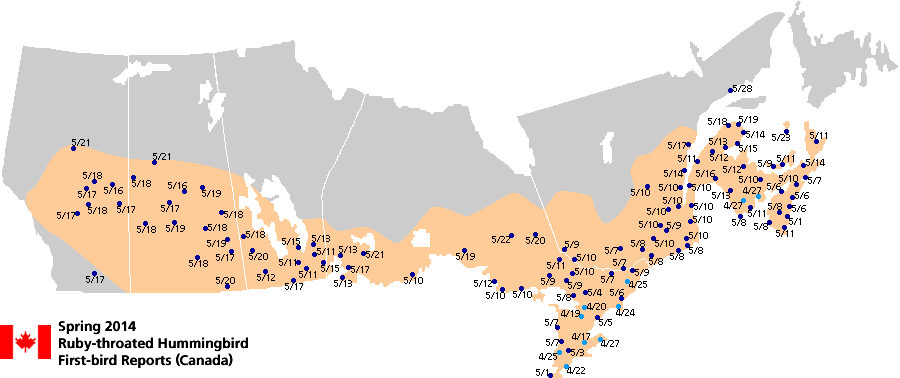 So I am all set, am starting to change the food faithfully every three days, and waiting for my little buddies to arrive.
I know, I know - you are hoping I get a new career soon! But honestly - who doesn't love a hummingbird?
And speaking of things I love.... Though I love peonies, lily-of-the-valley and lilacs best, I am pretty sure if I was a flower, I would be a pansy, like these lovely ones I put in my planter out front. They just look so darn cheerful don't they? One of the funniest stories about myself I ever heard was someone asking a friend of mine if I was "always so f#$%$!ing happy". The answer: yes, pretty much. Just like these pansies!
Have a lovely Monday and stay safe out there!