Hi everyone,
It's that time of the week again, the time when I download the junk in my brain and fill yours with things you wish you didn't know or didn't need to know! But that is half the fun!
1) The Cast Reunion of the Women of the Mary Tyler Moore Show
I rarely watch TV during the day. I made an exception this past Monday because I knew that Katie Couric would be interviewing the wonderful women of the
Mary Tyler Moore Show
, who were filming an episode of
Hot in Cleveland
that will air this September. I have not ever watched the latter show, but even now, if I see the
Mary Tyler Moore Show
in reruns, I will stop and watch.
Valerie Harper, Cloris Leachman, Mary Tyler Moore, Betty White, Georgia Engels
It was a lovely interview and you can tell that these women really love each other and are so proud, and deservedly so, of the wonderful work they did on the show (and in subsequent shows separately). Given the sad health situation of Valerie Harper, this is likely the last time these women will appear together in public and I found it very emotional to watch them interact with each other.
Where I lived in Canada, the
Mary Tyler Moore Show
aired on CBC on Monday evenings. I had my Brownie meetings on Monday nights as well and as soon as the meetings ended I would run the two blocks home in the dark (Brownies only ran from September till March and my memories are that it was always dark when we were done!), terrified of what might be hiding behind the bushes and terrified that I would miss the start of the MTM show. My mother and I were faithful watchers and even now, when I hear the theme, I think of my mother and the 1970s and it makes me equally happy and sad.
Mary Tyler Moore was one of
the
TV style icons of the 1970s - everything she wore looked fantastic at the time and a lot of it still does! Who knows how she could afford to buy such clothes on her paltry
WJM
salary?

I'd wear this dress!
But the boho style of Valerie Harper was especially cool to me: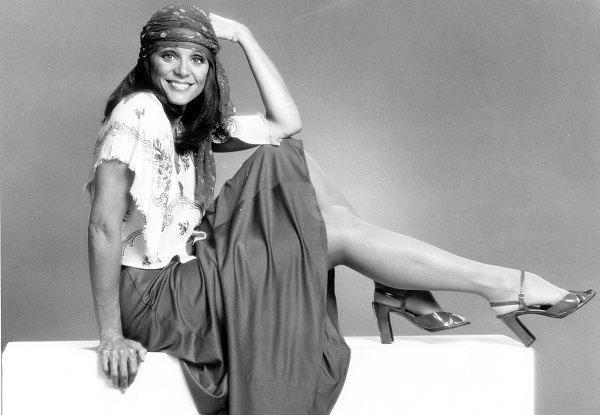 It was a real treat to see these ladies again and I was awfully glad I caught the interview.
2) Nate Berkus is getting married.
Some of you may not know who Nate Berkus is. He is a wonderful decorator/designer who came into the public eye through his association with Oprah and her show. He had his own show afterwards (I think I only saw one of those episodes). He has written a couple of design books. But he is equally famous for surviving the 2003 tsunami in which he lost his then-boyfriend, Fernando. Like all similar stories from that horrific event, it was very sad and for a long time afterwards, though Nate would be smiling, my daughter and I always felt his eyes were sad. Every time I click by
The Impossible
with Naomi Watts I want to watch it, but am filled with dread as well - any of you folks watch it?
But Nate's eyes are sad no more. Nate is getting married! To a fellow named Jeremiah Brent, who I don't know (I only say this as he is some kind of TV personality not because i think I know everyone!) and look how his eyes sparkle: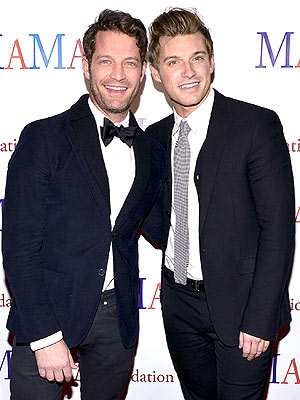 I do like a happy ending. Congratulations Nate!
3) It is April 13th and it is snowing
I believe that this ongoing weather
a) explains my wanton disregard for stringing my budget out over 3 months and blowing it in 3 hours on Thursday on summer frocks
b) explains my sense of doom that
Game of Thrones
is not really a TV show, but a
reality
TV show...
c) explains my sudden interest in looking at pictures of beaches on pinterest
Everything that was brown and luscious with early spring muck is all white again. I am wondering about my ancestors and their interesting choice to live in a climate where the temperature ranges from -40C to +40C and in which you can really only sit outside warmly and happily for three months of the year. Kind of tells you what they left behind, huh?
Perhaps it was the white tulips. Perhaps I was attracting the white snow with them? Well, they died and guess what? They have been replaced by bright colourful roses instead!
I refuse to give in to the misery that spring may just be skipped this year in favour of something else altogether, but it is hard to keep the old chin up.
So I am visiting gardens online and in magazines and this is making me most cheerful! I am also going to one of my "happy" places and visiting the Corn Hill Nursery website.
Corn Hill Nursery is one of the loveliest garden nurseries that I have ever been to, and has the largest selection of plants grown on site in the Maritimes. Located in the heart of New Brunswick amongst rolling hills, it is a magnificent, magical place. You can wander about for hours and it is all for sale. Sigh...And then you can take a break and have a sandwich or salad or dessert and a glass of wine and look out over the gardens... sigh...If you are coming to New Brunswick, you will have to stop and see me and then stop and visit there!
4. My Boho top
I got my J crew things (the ones ordered two weeks ago in the big sale) yesterday - the sweaters were keepers and the pants were divine, the shoes, not so much. Will post pics on those tomorrow.
However, since I was trying those things on, I thought I would take a picture (all by my lonesome!) in the new boho top I posted about yesterday so you could see it in real life:
I was vying with the plants for some room!
The bat wing arms above. Hey - you can see I am out of toilet paper on one side!
I love the golden tie cords and the pale gold on the end of the sleeves. I see wearing this with my my blue and white jeans or with a simple skirt or long white bermuda shorts. What I love most about Nougat London is that there is a real retro vibe about a lot of their items and the details are quite lovely.
In these pictures I am wearing the J Crew domino capris in ivory from 2012 that suddenly popped back in my size last weekend. I snagged these for $40 and they are just wonderful.
5) An interesting dinner party
Barry and I are off to a dinner party with our regular circle of friends this evening. There are 6 couples and we are usually up for anything. The couple hosting this evening have come up with a novel idea: there will be 6 small courses, and each of those 6 courses will be cooked by randomly chosen pairs of people. This promises to be fun and I am quite excited by the idea and of who my partner will be and what our course will be! Will report back on this one tomorrow!
So that is my Saturday morning. Between now and dinner tonight, I will be cleaning, organizing and relaxing. And praying for no snow or freezing rain! Stay safe out there!