If you didn't already love me, you will now.
You see, I visited our local Chapters and came across a nice little table with a "Books for Mom for Mother's Day" sign above it. "I'm a Mom," I said to myself (I may have said this out loud, one can't be sure when one is home alone a lot) "and I deserve a gift." But then, I always think that and that is exactly why I always get into so much trouble!
The object of my desire:
The Flower Recipe Book
.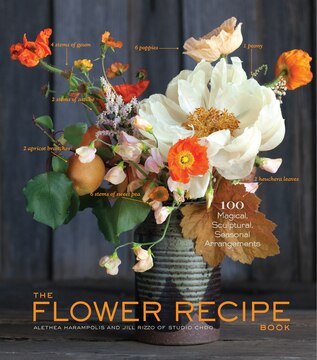 Oh Alethea Harampolis and Jill Rizzo: you are goddesses, goddesses I tell you! You have either just saved me from taking a flower arranging course or have driven me into the arms of a florist!
In case you are wondering, the book is a good sturdy hardcover.
You turn a page and on the left, your flower arrangement "recipe":
And on the right, what it looks like in real life.
Below the recipe, the how-to's and other helpful information.
Oh this is goodness personified in flowers. I can't wait now till lupin weather!
And peonies...
Well frankly, I can't wait until
any
flower blooms around here!
There are recipes for every kind of flower you can imagine. For someone like me, who adores flowers, it is a helpful way to learn to arrange them more artfully!
The other day, I shared a picture of the white tulips on my dining room table - today I will share another vase of white tulips that are on the windowsill in my bedroom. They are completely open now, which is the way I love them best!

You can see the snow in the woods behind. Actually we are still surrounded by snow
How about you? Do you have extraordinary flower arranging powers or are you like me, ready to learn this lovely art?
Either way, I am sure you will love this book and the hints and ideas contained therein!
Have a delightful Thursday and stay safe out there!