So much to talk about today, so I will get right at it!
1) The Death of Roger Ebert
Oh Roger, how I did love your thumb! Gene Siskel and Roger Ebert brought thoughtful movie reviews to the masses, educating people, myself included, along the way. I didn't always agree with their perspectives, but I always learned something. I was sad earlier this week when Ebert released the note that his cancer was back and that he was taking a break. How long that break was became sadly clear the next day when he died. While the balcony may now be closed here on earth, I suspect it opened to some fanfare elsewhere, where Siskel and Ebert, back in their tweed jackets, are currently extolling the virtues of "
My Dinner with Andre
" to a skeptical God.
GF told me the other day that in honour of his passing, she was going to work on her own list of the top ten movies she would need to take with her to a desert island. I think that is a good idea and include mine here! No judgement now, folks, and please feel free to share your list here too! Today it will be only "thumbs up". In no particular order:
Casablanca
The Wizard of Oz
Sleepless in Seattle
The Lord of the Rings trilogy (a cheat, I know!)
To Kill a Mockingbird
Rear Window
It's a Wonderful Life
Schindlers List
The Quiet Man
Meet Me in St. Louis
Of course, that is today's list. I completely reserve the right to revise this list tomorrow!
2) The Cherry Orchard
We are off to see a high school production of the above, with my son in one of the smaller parts. It is his first time performing on stage and he quite likes it. I admit it; I have never read this play or seen it performed live. It appears that any actor of consequence lists this, along with MacBeth or Hamlet, as part of a well-rounded Curriculum Vitae! We will see if the same holds true for my lad!
nope - not in this picture, but his buddies are
Another happy event for him is that he applied (with some prodding) to one of our local universities to begin their liberal arts program. Given his current lack of direction and his need to learn both critical thought and the art of writing well, I am certainly encouraging this. He seems more excited about the possibility since his acceptance letter arrived and it might inspire him enough to pass in those journalism assignments which hitherto, he has considered too "lame" and therefore beneath his attention...I did not feel that when my daughter graduated that I had much to do with that accomplishment. With the boy on the other hand, I feel we are all going kicking and screaming to that diploma...
3) Kate Spade New Arrivals
While there isn't much that I feel is appropriate for me and my style these days at Kate Spade, I do always love the purses and this time, I am intrigued by a dress that looks like a basket, the
natural tromp l'oeil mariella dress,
which I cannot decide if I think is so clever it is cute or so clever that it is bizarre. The advent of the new technologies that allow designers to put ANYTHING on fabric and have it look quite real is certainly creating a plethora of interesting and sometimes questionable fabrics. As I said, I am on the fence on this one and would love your thoughts!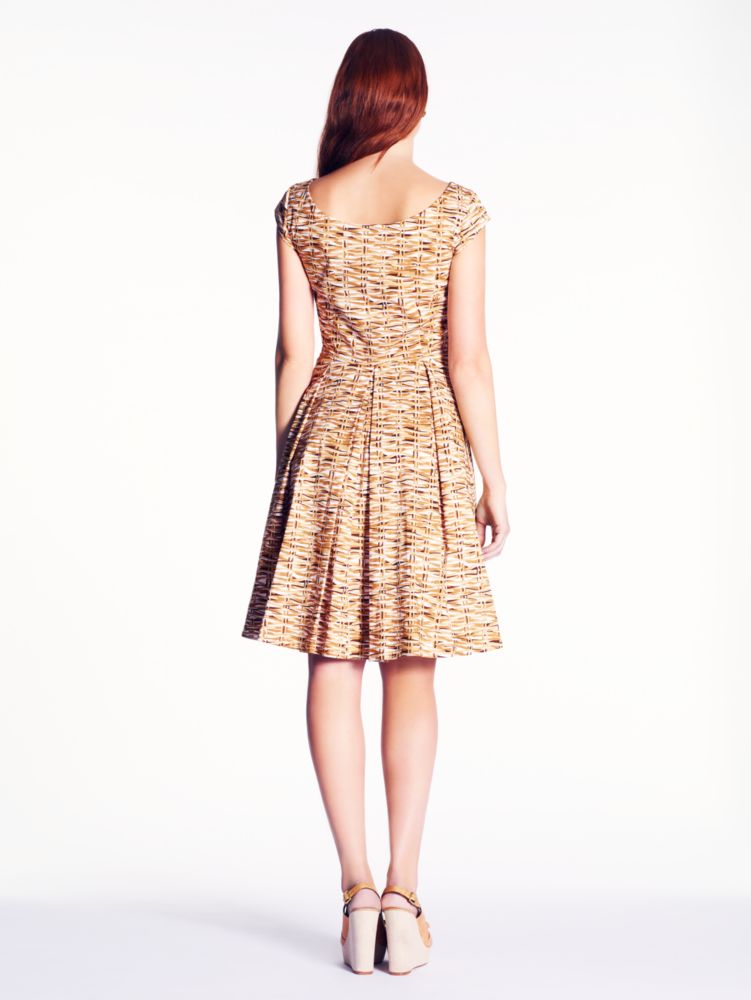 I can't seem to get a good shot of the details so you just have to go over and take a look yourself!
How about the apple basket wristlet? More whimsy than one can shake a stick at!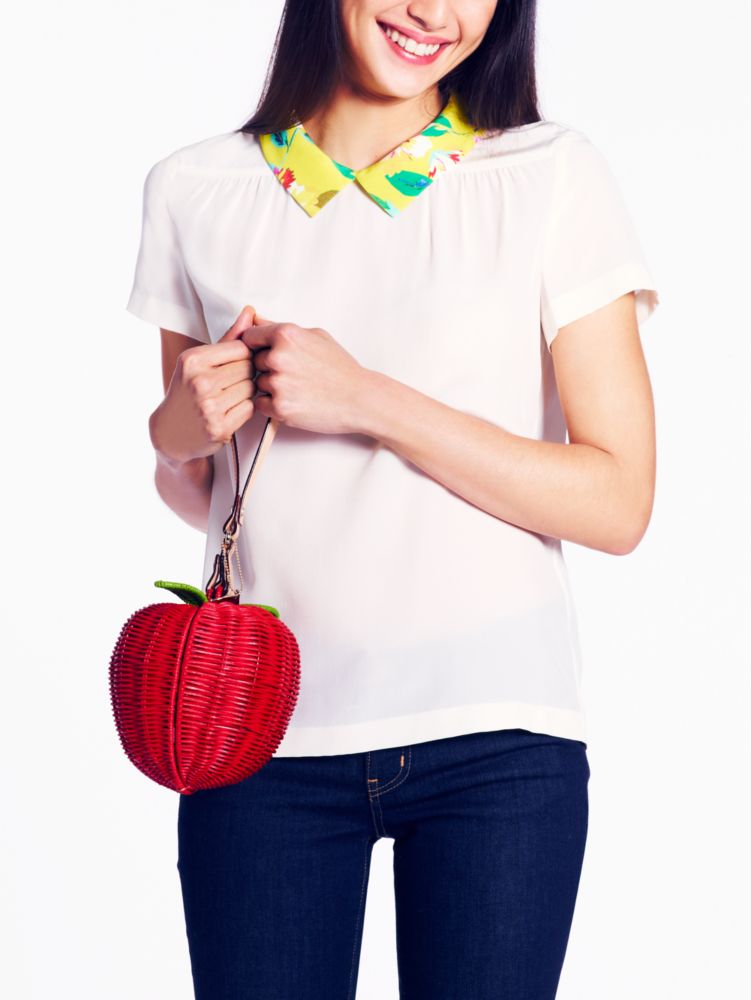 4) Anna Karenina
I know, I am WAY late to this show. My daughter and I watched it last night. Actually, she left after an hour. "Clever," she said "but with nothing to love about the characters." She was the smart one and by the time old Kiera threw herself in front of the train, well, I was just glad I wasn't there as I might have pushed her just to have it all over.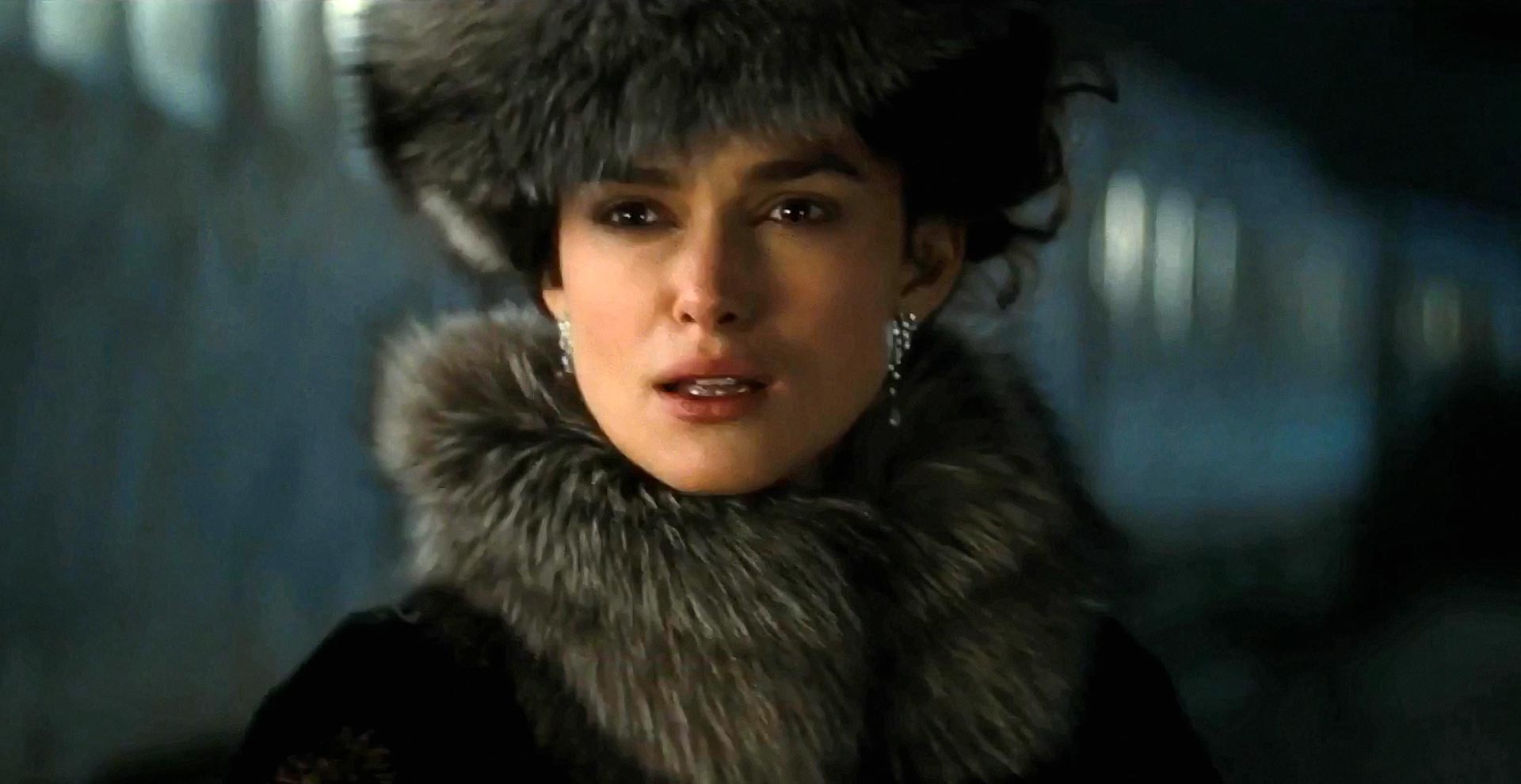 I look like that at Barry all the time....
Don't get me wrong. It was clever setting it as they did in a theatre. The costumes were sumptuous. They somehow managed to make Jude Law homely. But the conceit of the staging grew wearying for me quickly, Kiera Knightly (she of the pouting lips and smoldering eyes that are are used by her to great effect in all of her movies) did not make me care about her and if you don't care about Anna, well where is the tragedy? It just felt like a long march to the end. Sorry if some of you really loved this movie - perhaps it was the wrong night after a long week, but more likely it was simply not my cup of tea!
5) The New Chair Arrived
As some of you may recall, we began redoing our family room once the laundry was completed. This was logical, as one project did begat the other. The laundry room's structural changes resulted in drywall in the family room and a decision point about finally changing out the windows and making the room more of a family room than its current incarnation as simply a TV room. Well thank God the Chair arrived (it had been 9 weeks since we placed the order and my special workman seemed reluctant to do much in the interim) as Barry is back at it in full fury. While the whole thing will likely not be completed for a couple of months, as some things need to ordered, such as windows, etc, now that the weather is getting warm enough to change the windows, it is heartening indeed!
The chair is by Lazyboy and is a lovely thick linen material in a paisley print which has the cobblestone colour of our couch and the blue that will be a focal point when the room is completed. It is comfortable and a good size without being too large, which has often been an issue for us before, no doubt because Barry is 6'3". It was lovely fun to pick out our own material and have it done properly to our taste at the factory, including the proper stain-repelling done before the material is even placed on the furniture. There was none of that dreaful off-gassing that you get when the local store does it for you. So we are pleased and I will take more pictures as the work progresses (I hope!)
So that is my Saturday - what about yours? Have a great day and stay safe out there!