Well, it is Saturday morning and just wanted to share some random style thoughts which have hit me lately:
1) Ralph Lauren's Military Jacket
Maybe some of you love this. Ralph has obviously visited the Royal Military College of Canada where you can see beautiful young men and women dressed like this:
In my late teens and early twenties, we would have found old military jackets and rocked them with black or white ripped tees, jeans and combat boots. We would NOT have bought this new.
Would you wear/buy this and rock it like Miss Shiloh Pitt? Where would you wear it if you did buy it?
2) Sequin dress
Do you really think that J Crew could make a sequin shift dress that was worth $1,250 CDN?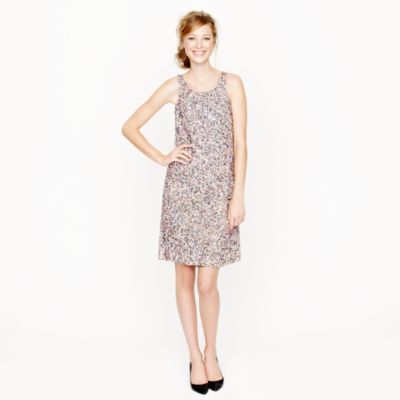 I would be afraid to wear this outside the house. At the same time, I would have to wear this a lot if I was to get my cost-per-wear down to a reasonable amount of say $100 per wear. In other words, if you lived around here you would see me rocking this baby for the next ten years to every event I had an invite to! I got J Crew's lovely sequin dress of a couple of years ago in camouflage that still looks great and which I paid $110 CDN for. I am pretty happy with it. Does that make me a luddite?
There are some things I have seen lately, which I think are just lovely:
This Temperely London Cape can be bought for an ungodly price at Net-a-porter, but allows you to play Cathy from Wuthering Heights...Buy yours
here
and make sure you wear your black equestrienne boots with these.
I'm going to need this to go with it:
Again, for a little more than $3000 CDN, this can be yours. By all means - pick yours up
here
!
Since I have a long black talbots skirt and lovely white blouse, I may try to recreate this for Christmas parties!
A couple of outfits that I wore this week:
Earlier this week, I finally started wearing my snakeskin skirt:
I am wearing this with some Anne Merino heels from a couple of years ago, a Calvin Klein blazer which is also old and the lovely blue wool scarf I purchased in store at J Crew in July. Sadly, this does not seem to be available online, but the skirt sure is and I truly love it!
Yesterday, was sombre black (with a bit of blue) as I had to go to the funeral of a friend of mine's father at lunch time:
This is the Judith and Charles dress I purchased in the summer, paired with a Judith and Charles black wool blazer, basic pearls and my new black Arturo Chiang riding boots which I blogged about
here
. I thought of you at the funeral Dani, as I saw so many people in what I would consider as completely inappropriate outfits for a funeral. Call me old fashioned, but I think a pink floral dress belongs at the drunken wake the night before, not for a sombre church service! And since every woman I know in this town seem hell-bent on wearing black to work on a daily basis, they surely could have pulled something out of their hat! There, I got it off my chest and feel much better!
Finally, this is my 100th blog post. I know it only says 96 on your screen, but i have 4 others that I have never gotten around to posting, so for me it is 100! :-) I did not think I had this much to say, despite being a person who talks a lot in "real" life! I want to thank you all for popping by and I will actually have an upcoming post about my experience in blogging thus far! As some of you know, I do not have my blog on google or other search engines. So most people who are here have tripped over me while being elsewhere and for that, I am awfully grateful!
As always, have a wonderful Saturday and stay safe out there!