Is it just me, or was this a LONG week?
Regardless, I am happy that it is Friday! When I arrived home last night, there were two JCrew packages waiting for me from the last 30% off sale (takes a while for things to wend their way to Canada..)
I ordered the herringbone capris in grey. These were a love and I will post a picture of them on the weekend!
I also ordered the minnies in stretch twill in orange: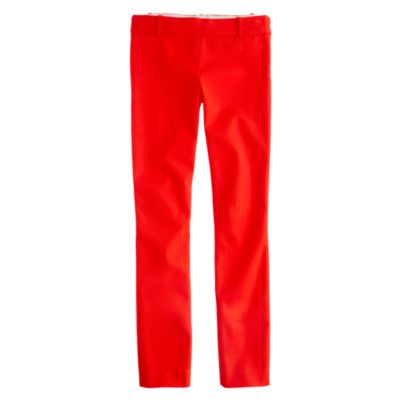 Or should I say
ORANGE?????
They almost seemed like a neon orange, if there is such a thing. I know I should know better, but obviously I do not! Back they will go on Saturday. I did not even take a picture as they were blinding me with their orange-ness, which says a lot, since my natural tendency is to be as garish as I can be! I have got to stop being attracted to these colours on my monitor which look nothing like they really are....Damn you J Crew and your ability to trick me!
Thanks goodness the herringbone trousers were fine! I am tempted now to order the hacking jacket that matches...
I shopped the closet today - J Crew navy lace skirt from 2011 and BRnavy cardigan with black lace panel from 2011 as well. Shopping the closet is a good thing.... I am not sure about the sweater and would like some opinions - it may not survive the purge...
I wore the burgundy boots for the second time this week. They are awfully comfortable:
I know, this is an odd angle for a photo, but I wanted you to see them close-up.
And the detail on the side:
These boots were made in France by a company called
Un tour en ville
. They have a 2" heel and are perfect for walking out! There appear to be many places in Canada which sell this brand, so assume the same is the case in the US as well.
Finally, one of my guilty pleasures began again last night (don't spoil it for me - had to tape it until I can watch tonight!) - Grey's Anatomy is back. You can't even make me feel bad about myself for hanging in for so long, through good, bad and indifference...
I like Patrick Dempsey. So sue... :-)
And now I will join Dani on the porch for Miller time... Oh snap! Just realized that is 8 hours away...
Have an awesome Friday and stay safe out there!