Many thanks again for all of your wonderful advice yesterday!
Of course, all day I wondered if what I was wearing is flattering once I started to read your post and learned more and more as the day went along...
Hmm - I like this suit, but not sure about the pose... I have the V thing going on, but jacket could be smidge too long...I think I would like the trousers better if I wasn't wearing the dark belt. And I am wearing the valentinas in leopard print, but my feet are killing me and they are going to be finding a new home as these kinds of valentinas are not for me...Odd, as the slingbacks are divine...
I like the superfine cotton - it is soft and is fine for awhile until the weather gets worse but I am not LOVING this. It is fine, and comfortable but not special I don't think...
I went into the closet and dug out the ralph lauren trousers I referred to yesterday - here they are:
I did not try them on for you as frankly I am tired tonight! They are fully lined, fit like a trouser should and are flattering I believe..
A close-up of the fabric:
I am going to search for a corduroy blazer and consider the schoolboy in purple flannel..
unless I can find something else.. since this is not on sale, I can wait...
I can see that this blazer, the trousers and the manchester purple tie top could be quite lovely as an outfit..
Something like this, from smart set of all places, is also a cut that might look nice with it:
So I will keep looking!
I also REALLY like the look Gwyneth is rocking in her JC ad:
I am unfamiliar with the hacking jacket cut and am afraid it will also be too boxy at the shoulders for me and i have heard that the capris are "wooly" and very thick...
I am heading away for meeting later Thursday returning Friday evening. Since I will be away before the end of the sale, I decided that I would add a treat from the sale:
I decided to add to my minnie collection - I already have the navy and boulevard green minnies. I LOVE the minnies and am now a complete convert. So for $63 CDN, I think I can get a lot of wear out of these bright minnies for my weekends, with boots, et al..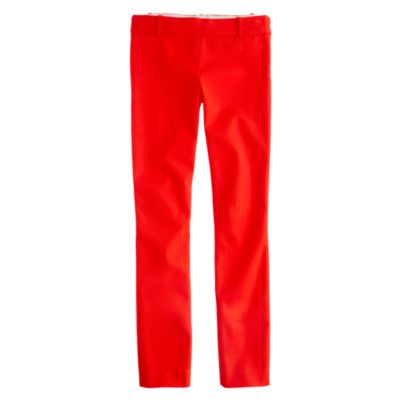 I love the poppy velvet blazer, but do not think it is the right shade for up by my face...could just be my monitor!!!
Have a great day!