Well, we arrived back earlier today, and have started the laundry, realized that home is truly a lovely place to be, and have a kit load of memories and mementos!
There will be a few posts in the coming days about my trip and other things, but thought I would give you a taste of the BOXES that were waiting for me when I arrived home today! And I mean BOXES - 5 J Crew packages in all and here is the good news - most of it didn't work (I say good as that saves me some money!) I am sure my dog-sitter thought I have a shopping problem and she is likely right, though in my defense, I had ordered three things in advance of going in support of my fall list and the others were impulse 30% off deals that I thought I could not resist!
The first item, pre-ordered weeks ago, was the sweater from look #16 in the fall lookbook that my buddy AJC also reviewed
here
:
I am not going to lie. I forgot I pre-ordered this until I saw AJC's review. And there it was, waiting for me and was the first package I opened!
This was a big disappointment!
I did not like the inside-out pattern - I do not typically love this look anyway, and I do not think I realized it was inside out until AJC noted it. She also mentioned it was a bit boxy and I concur:
Okay - a confession - I am SURE I have gained at least 5 pounds in France and the way I am holding my stomach above, I would say that I look many months pregnant. However, I will never know, as I am now being virtuous and I do not plan to weigh myself for at least 2 weeks!!!! I grabbed the first skirt in my closet I saw and the combination was not terrible, but certainly exacerbated the boxiness!
A close-up of the pattern:
The trim is the cabernet/brown colour that i know some JCAs have not enjoyed so far this fall. The blue (which looks purple-y here) is very bright and all those loose threads terrify me - they are snags waiting to happen! The inside is so much more beautiful!
I did not find this sweater itchy at all, and since I am prone to itchiness from wool, that is important for those of you who are interested in this sweater to know! The merino is very soft and quite lovely and I so wanted to love this sweater! But the fit was boxy and the sleeves are bracelet length and just kind of hung there on me. Or perhaps it was the haggardness after all the travel. (Who poses for shots within three hours of arriving home without a stitch of makeup? Me I guess...)
This was a big pass for me and is heading back from whence it came...
My next pass is the Tippi colour block cardigan in fuschia/burgundy. This is a lovely sweater, but I wish I had paid attention to the blogs before I ordered my typical M. It was too large on me - the sleeves were at least 4 inches too long and there was WAY too much material on the sides and back. I am not sure if i will reorder it in a small; I really need a couple of other more basic sweaters - a wool navy cardigan for example - so this may simply go by the wayside. In the picture below I have pushed the sleeves up as they would extend all the way to the tips of my fingers! Shopping with M has a great review that shows how this cardigan is supposed to fit
here
.
The sweater does nicely match my walls however...note the shoes....
The third disappointment, and AJC called it correctly in advance,was the collection scoopneck top in silk scarf foulard.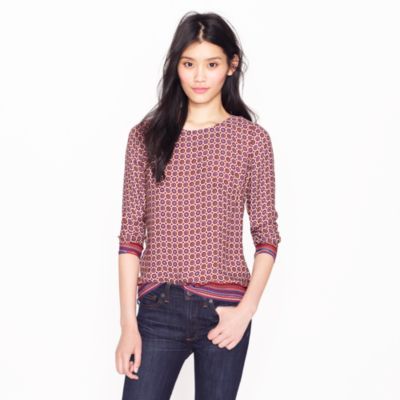 I ordered a 6 in this top and it was too snug (now that might be the extra weight, but given how it fit regardless, an 8 was not more appealing).
The top is not flattering for a busty woman. At all. The material is lovely:
But it is designed to be more flowy, I believe, and thus would look better on someone who didn't "snag" the material at the bust! In addition, I was expecting more of a "scoopneck", like the cream blouse the picture further below.
Oh the horror!!! It was no better tucked in and everything about it for me - the neckline, etc, was simply not working for my body type!! Given that this came to $250 CDN, it is not a bad thing to return it...Even One More Shopping Blog, who is teeny tiny, did not rock this top, so I took some solace in that. You can read her review
here
!
But there were a couple of items I did love that came from J Crew:
The Valentinas in dusty jade: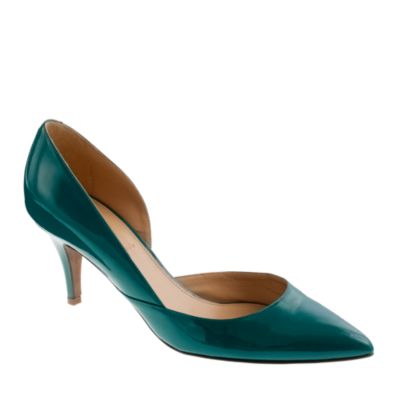 With my 20% off coupon, these were reasonable, although I am not 100% positive I am keeping them. Like my leopard print valentinas, despite sizing down to a size 6, my heel still wants to stubbornly walk out of these. For those shoes, I purchased heel grips and arch grips, which seemed to do the trick and I am going to do go purchase a set today and see if these can be salvaged as well. They are truly lovely!
Likewise, I truly loved the Collection Pencil Skirt in Abstract Floral. When the 30% off sale was on a week or so back, I managed to get this on sale for $116 CDN, which seemed very reasonable to me for a silk/wool skirt.
The personal shopper I chatted with when I placed the order was hell bent on me ordering the striped tshirt as well, telling me adamantly that stripes were now a neutral and I must treat them as such. However, that lovely girl does not work where I work and I assured here that I did not need the tshirt but thanked her very much for her persistence in attempting to bring me into the light!
There is so much to love about this skirt! It is soft and the colours are delightful. I thought they reminded me of spring, but I can see that with black tights and boots, I could easily love them ino the fall/winter. I also expected the material to be perhaps shinier than it is, given the shots on the website (Oh that damn website and its evil visual trickery!)
I did this accidentally, but my daughter took my picture in her tiffany blue bedroom, and it matched quite delightfully! I am wearing the skirt here in a size 6 with the dusty jades, which stay on perfectly if I do not move and one of my monoprix triumphs - a shortsleeve, truly scoopneck, 100% silk blouse that I paid all of $39 euros for! It is a gorgeous weight and looks just as lovely untucked! I am wearing it with green glass beads I got early in the summer from Banana Republic. It had the most god-awful cheap faux turquoise pendant on the end which I had my husband chop off and it is quite lovely now!
I can see many outfit combinations with this skirt, which has undertones of retro jade, kiwi green, cream, mint, pale pink, khaki green and black:
I was surprised by the mint colour and immediately created a little outfit with my mint Naomi Top:
The inner waistband is lined in the prettiest mint grosgrain ribbon. I dug out my Valentina slingbacks in heritage green and they looked great with the skirt, so I will probably use them in September when the weather is still warm. I have a lovely kersh cotton cardigan in turquoise that I can also pair with it in early fall and it perfectly matches the retro jade tippi sweater I bought in July in Boston:
The skirt is definitely staying, and perhaps the valentinas if I can get them to stay on my feet. Sadly - all others are heading back!
However, every one of those boxes had 20% off coupons included! I gave a couple to my son's girfriend last night and am keeping one or two for myself, now that I will be doing some replacement ordering, but I have 6 coupons to pass on to anyone who still needs one! First come, first served!
Am glad to be back with you all! I did get to read all of your blogs while I was away and I truly appreciated the great bon voyage wishes. Paris really is magical!
UPDATE!!!! I realized I did not share the details of the 20% coupon! The code is good till October 31 and you must spend $150 or more to get it online! Sorry about that!
Joelle got the last code! I could not believe I ended up with 8 to give away! Crazy how they do those codes, isn't it! Sorry I didn't have one for everyone!