Happy Friday!
It is still early in the growing season, and my mint is already out of control.
Within two weeks, it will be well up above the horizontal board.
See - it spills over on to the pathway.
I pull it up regularly and have even poured vinegar on it, which is very effective, but here is the awful truth - it smells AMAZING to walk on. Like so many things in life, the thing that drives you crazy is the thing that you also love....
Mint continues to be a huge colour this spring and summer in fashion. The
Tartine
tote is a lovely little bag of minty freshness: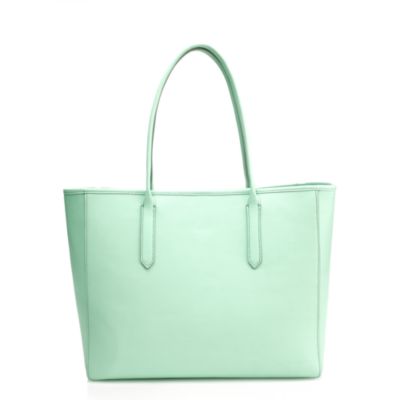 And the new Tory Burch
Lucille Blouse
is also lovely:
About a month ago, I broke down and ordered the
spearmint sequin top
from the J Crew Factory site.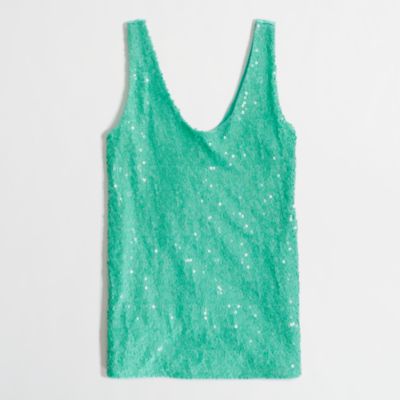 It was one of the crazy sales where the item is on for $20 for a couple of days and I decided it would be fun for summer. Right now I see it is on for $52 CDN. But then the weather got wet and cold and so I didn't get it out again, but I plan to this weekend, since it will be very hot. I plan to wear it with the
cargo scout chino
in venetian green. Unlike other J Crew tops of this season, the arm holes are not cut too large, so you don't show side bra, which is important to me!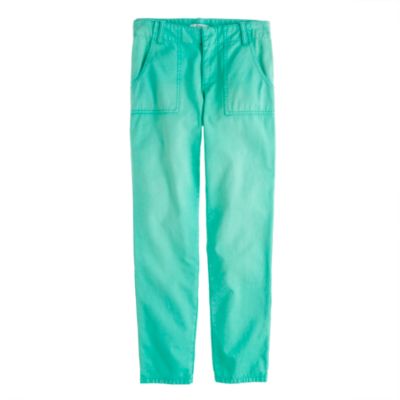 These pants are the perfect match for the sequin top.
I love this colour - it is almost the bottle-green-fatigue-colour of the 1940s to 1960s which I love so much and which is in my kitchen:
and IRL, together:
The back of the tank is cotton, which I always prefer to sequins all around:
The one time I wore this, I wore it with white jeans. I think that mint and white look so fresh together...
Update:
Me in outfit (I was too lazy to get dressed earlier...)
In honour of all of my mint, and because I need to come up with new cocktails besides the Mojito, which sometimes makes my eyes cross, let's make a new minty cocktail, shall we?
Have you any big plans for the weekend? I plan to do some weeding, some reading and am off to purchase a new cellphone, as I have turned in my crackberry at work. The weather forecast is calling for more rain (!), which I hope is not the case. I am hoping to spend some time in the pool as well!
Have a wonderful day and stay safe out there!