Well Friday it is and Friday it shall be.
Daughter and I are alone this weekend - son and husband are off to our nation's capital to soak in history, camaraderie and a Star Wars exhibit that opens there tomorrow. You know what that means - some shopping, dinner out and some relaxing times for she and I, and: CHICK FLICKS!!!! We have already decided to watch
My Big Fat Greek Wedding
for the umpteenth time.
If a mother-daughter bonding weekend is a sweet time, it has nothing on the J Crew package that arrived in the mail today: the cafe capris in silk foulard.
Oh remember them? Marie Antoinette and Liberace's bastard love child?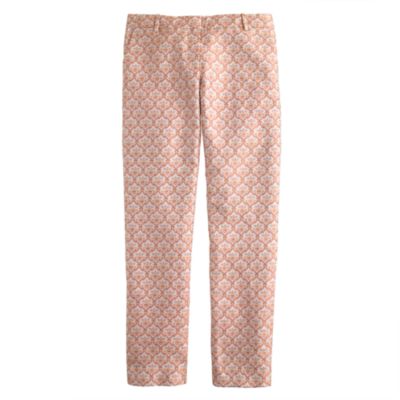 Well they are here, and dammit, I loves them. I love them as only a woman who loves Marie Antoinette, Liberace and watching Lawrence Welk blow bubbles on a Saturday night can love them (yes, I AM that campy).
Don't I look like a realtor here?
When they arrived i was wearing my linen tippi from last summer in henna and darned if that didn't look nice together, so I grabbed an old set of pink balls from Talbots (is it just me or do you think that Liberace might also said that very line at some point in his life?) and pair of shimmery sandals and ran downstairs lickety split to get daughter off the couch (summer job begins week after next) to take my picture.
Another view for those of you who love the plant and can't imagine not having a review without it...
A closeup of the material. The background is actually a pink. I was expecting it to be more champagne-like, but then I expect everything to be champagne-like. You can see the pink in the picture below, which although slightly pinkier than the pants, is in the same colour story. Am quite proud of self for remembering to look inside and take a picture for you!
But can she make a pretty outfit with it?
Oh yes she can. It is like the nougat london top was waiting for it to arrive, which makes this outfit the bastard child of meringue kisses, battenburg lace, Liberace and Marie Antoinette. And you thought living in your head was hard...
And those wisps of blue call out for a little blue on top..
Since some of you have the tendency to go over the top when you dress (oh wait, never mind, I was talking to myself there), it is important to remember that one shouldn't pair sequins here. Unless you have to and then by all means, go for it.
It also looks divine with yellow and ivory and I bet golds and silver would be grand, too..
I mean honestly, what don't these pants look good with? I haven't tried white yet, but you just know they will look good with white.
So, they are going to stay. In fact, I wore them out to a little "do" hosted in my honour by some of my former staff last night. This is the month that we "retire" Wendy and there are fetes each week, which would be exhausting for some, but since there is food, wine and the odd gift involved, suits me just fine thank you very much!
In honour of these pants, we need a lovely frothy, fruity cocktail. How about a Ciroc Chic?
1 1/2

ounce(s)

Cîroc Vodka

1 1/2

ounce(s)

pomegranate juice

1

ounce(s)

pineapple juice

1

slice(s)

pineapple

, or edible flowers
---
Directions
Add Cîroc Vodka, pomegranate juice, and pineapple juice.

Shake with ice and strain into a prechilled martini glass.

Garnish with a pineapple slice or edible flowers.
Our edible flower will be a little blue violet, in honour of the pants!! Guess who's making one of these bad boys tonight? Uh huh - girlie drink for a girlie movie!
So happy Friday and if you are looking for me - you can't miss me.
Stay safe out there!