Happy Saturday All!
We are now on day 4 or 5 of torrential rains. I am thinking of building an ark. When the sun actually comes out, the garden will likely explode! I am going back out there again anyway. A glutton for punishment...
Here are some of the things that I've been thinking about this week:
1) My new nail polish obsession
I am not a nail polish person. The nails on my hand are simply buffed - I am too hard on my hands with the housework and the gardening and I hate the look of chipped polish and since I am not a good manicurist, nor have I prioritized my budget so that mani/pedis are included, well when I do my own nails my hands most definitely DO chip. But from May to June, my toes are always painted and happily so.
This week I picked up an audacious colour from OPI from the Bond Girls collection: Jinx.
It is one of their "liquid sand" colours and is this glorious sparkly orange colour. I am too lazy to take a picture of my feet this morning, but the picture below gives a good indication of what it looks like on:
This just screams summer to me. I will be surprised if my feet wear anything else this summer. Oh - and the liquid sand is more forgiving than regular polish, which is nice for a klutz like me!
2) What is it about zombies, anyway?
Well the Walking Dead is done for the season, so thank goodness, along comes Brad Pitt's World War Z. I have not read the book, though Barry read it the week before last and was enthralled by the story. I saw a preview when we went to the new Star Trek movie last weekend, and it looks like a roller-coaster-ride of zombie apocalyptic fun.
Our friend Miss Tabs caught some of the filming last year, and I read with interest that there will be a premiere in
Glasgow
. I am thinking I should fly over and go with her, just in case Brad brings George along to the screening!
What is our ongoing fascination with zombies anyway? Some would say they already live among us! Will you go see this movie? I do like Brad Pitt, so I likely will, and besides, I am pretty sure I will be dragged there anyway!
3) The thing I am lusting after
There is always something that we would like to have, isn't there?
My latest obsession is the new J Crew Allie gladiator sandal in metallic silver.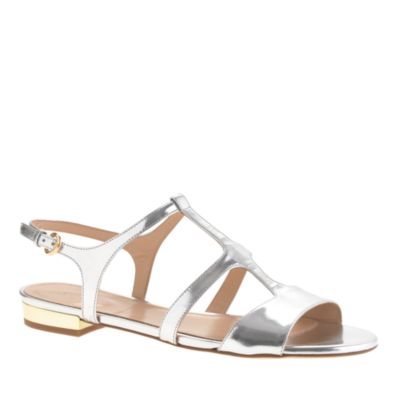 I imagine them with the orange polish above and with every single thing in my summer wardrobe. Please - someone tell me you have tried these on and they are terribly uncomfortable!!!
4) A recipe that I have devised for a good wow factor at a dinner party
Years ago, Barry and I went to a little Italian bistro in Ottawa and I had this amazing little dish of ravioli in a cambozola sauce with grapes. It was divine. I have since replicated it several times at home, sans recipe, and always to the great delight of the eaters. We had friends over last night and served this and they were raving, so I thought I would share it with you all.
Important to note: there are no measurements here! I eyeball it all. I know: not helpful!
Wendy's Version of Ravioli with Cambozola and Grapes
2 pkgs of cheese/spinach ravioli (the kind that only take 3 minutes to cook)
finely chop 3 cloves of garlic. cook in 2 tablespoons of olive oil for about 1 minute. Toss in about 1/3 to 1/2 cup of chopped cambozola cheese (it all melts anyway so big chunks are good!). You have to stir this constantly but it will be melted in about 3 minutes. Add 1/2 cup of white wine that is sitting in your fridge. Take a glug of it yourself. Keep stirring. Once the consistency is very saucy, toss in 2 cups of red crunchy grapes which you have halved in advance.
Your ravioli has been cooking right beside you. Drain. Divide ravioli between 4 to 6 plates depending on the package size of your ravioli. Pour sauce on top and then sprinkle finely chopped chives on top. Drink with a nice Italian wine. Your friends will think you are gourmet. They will be right!
Hope you all have the best Saturday! Look for me out in the garden, sopping wet....
Stay safe out there!