Well the sun is out again, and while we had a touch of frost this morning, this afternoon has been absolutely glorious.
Except for the J Crew (and others!) floral trim trends of a couple of years ago - remember when EVERYTHING was either ruffled or had a big flower - I typically avoid the flower prints, since they can be too sweet if you're not careful and when you are short and busty, you can quickly find yourself looking like a rose bowl parade float. Hence the reason I do NOT own the J Crew peony tee of this season, despite absolutely loving it!
Right now, I have almost nothing in a floral motif in my wardrobe except for these lovelies:
The beloved J Crew Giverny dress. Still waiting patiently for someone to get sick of their old skirt or top, but it has been 6 years and people don't seem to get sick of them!
The Nougat London top I bought a few weeks ago, with appliqued flowers, shown here with my pompon pants that scream DAHLIA!
And the recently purchased cafe capris in silk foulard with the tiny floral print:
Not a lot of summer flowery prints for someone who likes flowers so much! This got me to thinking about our love of florals and whether our love of a certain flower sends us in the direction of a certain print?
For example. Love roses or ranunculus?
Then you must source the Giverny print for yourself as well!!
Bearded Irises?
Then walk, don't run to buy the J Crew Collection Silk Pocket Tee (or matching skirt) in Toulouse floral: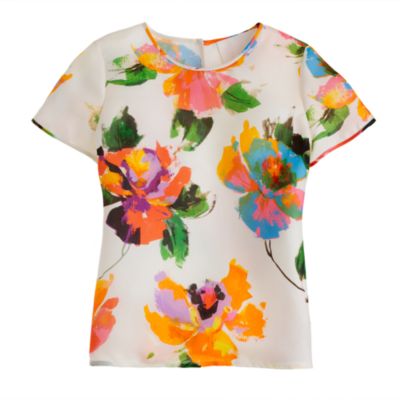 Like the riotous good time colour of a gerbera daisy?
Then any of J Crew's punk florals are up your alley!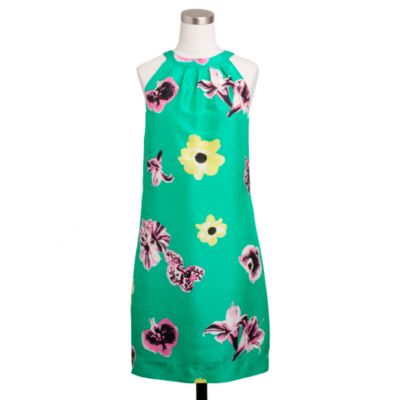 Like a lovely climbing Clematis?
Well, if you have enough money, by all means, buy Roberto Cavalli's homage at Net-a-Porter:
Maybe you like a lovely country cutting garden?
Well, Moschino has a mini dress for you!!
What would I choose? Well, I love Lilies of the Valley, which are just about to bloom here..
So I think I would choose this little number by Dolce & Gabban:
What about you? Do you wear your favourite flowers in the summer or just put them in a nice vase? And if you could have a piece of clothing like your favourite flower, what would it be???
Have a lovely Wednesday and stay safe out there!