One of my favourite movies and stage plays of all time is Rogers and Hammerstein's
Oklahoma.
The images of stunning plains, the can-do pioneer spirit of settlers and cowboys, the corn as "high as an elephant's eye" made it an intoxicating mix for me.
Today, Oklahoma is a scene of destruction and sadness after a F4 tornado touched down yesterday. An elementary school was directly in the path of the tornado, and the most recent count indicates that of the 51 confirmed deaths thus far, 20 are children.
\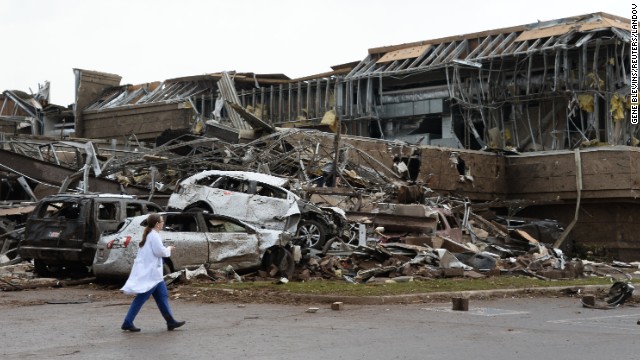 Tornadoes are thankfully uncommon where I live. They are all too common in Oklahoma, which is a part of the U.S.'s
Tornado Alley.
This two mile wide (!) tornado was on the ground for an unthinkable 40 minutes, cutting a swath of destruction for 22 miles.
I cannot imagine the terror that one feels when a storm like that is bearing down on you. I also can't imagine what it is like after you survive such a disaster to hear in the weather forecast that more storms are coming.
My heart goes out to the victims of this storm and to the people of Oklahoma, who are left with the Herculean task of rebuilding. Is it just me, or are these storms getting bigger and bigger? Could we not start the discussion about global warming NOW?
Sorry for the sad topic today. I just couldn't go light after this much destruction. Please stay safe out there.