Spring seems to have sailed right by in these parts and gone right to summer; yesterday the temperature hit 80! Luckily the pool man had fixed the pool heater and Barry was able to take the first dip of the season! I skipped it today, and likely won't be in for a few days yet - am waiting for my new bathing suit to arrive from Lands End. This very warm weather won't last around here - it will likely be back to 68 or 70 F during the next couple of days and not hit these kinds of temperatures again until June, but we will take it while it lasts. We also ate a lovely chicken salad and homemade biscuits outside in our little patio, so that was a treat too!
Well the first of the J Crew boxes arrived today and have begat my question of the day.
If you recall, I ordered the daisy lace skirt, which can be seen here: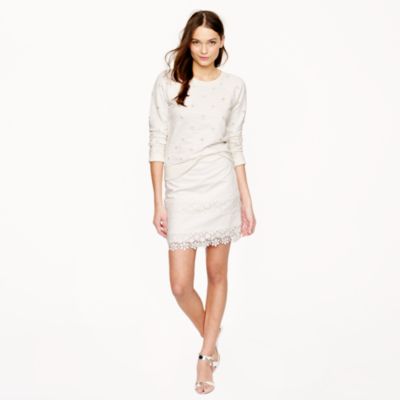 Since it was coming anyway, I decided to throw in a pair of little white and gold sandals I have been lusting after, the cyrille studded t-strap in alabaster: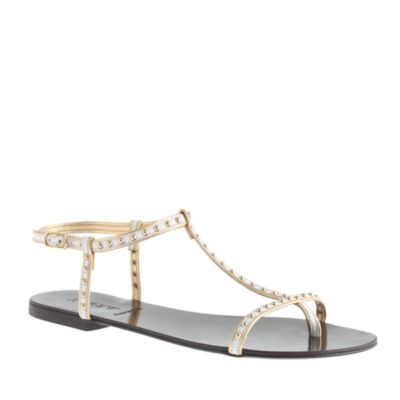 Shall we start with what I know for sure?
Okay - the sandals are a no-go. But they are just as lovely in real life as they are in the picture above.
And on my unpainted tootsies:
They are very nice, but the strap across the top is very tight and uncomfortable - back they go. Maybe my feet are getting wider and fatter?
The skirt, i am unsure of.
Immediately out of the bag, it is pretty. The cotton is the same kind of waffled cotton as j crew used on last year's porcelain paisley skirt.
The detail of the daisy hem, which is backed by organza:
The inside of the waistband is white grosgrain and the lining is 95% cotton, 5% spandex:
It fits well, because I ordered up a size so that i could pull it down to my belly button as it is only 17 inches long!
Here it is paired with an old J Crew smock and kelly green jackie cardigan. But here is the question: even with yanking it down, is it too short for me?
What do you think? I am also worried about a white, dry-clean only skirt: is it a fool's game? I do like this a lot and it is lovely and it clocks in at a quite reasonable $88 CDN, but would love your thoughts!
Today i started off in a green mood:
By mid-afternoon, I was in short shorts! I would NEVER wear 3" shorts outside of my backyard, despite having thin legs - it feels a bit indecent to me now, but I could be getting more conservative in my middle age!
The shorts, and the white skirt, got me thinking about hemlines. I know that the white skirt, pulled down as I have it in the pictures above, is not a micro mini or anything, but I am mindful of propriety and am counting on you all to keep me on the straight and narrow (with a twist mind you, always a twist!!!)
So all opinions most welcome. How about you? are you adjusting your hemlines these days? Stay safe out there!