Thank you all so much for your advice yesterday - it was awesome (and more on that below!)
Yesterday was the beginning of J Crew's spring arrivals.
While I was not thrilled at all by the lookbook, I did see some things that I liked and that might be nice additions to my spring wardrobe. However - major caveat - I am not ordering ANYTHING until a) I see things in person in NYC or b) on a lovely JCA who takes the plunge for us all and c) is on some kind of promo! I am sitting on a $100 gift card that just does not seem to want to be spent!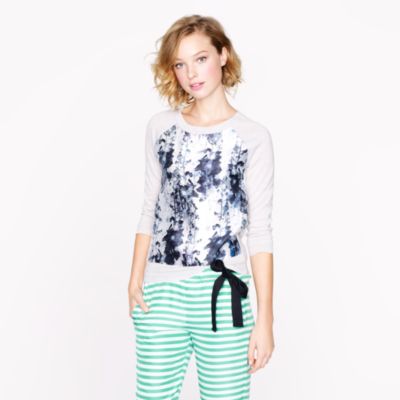 The
Merino Sweater in inky dot print
. I think this would go with my navys, is a good price and I could put my navy blouses underneath. See - I am thinking of how to mix with what I have!
The
Featherweight cashmere cardigan in microcheck
. Again, would match with what I have and I do like the featherweight. However, this is CRAZY expensive!! A hundred dollars more than its solid cousins! $310! Not worth it for that!
I also like the
Sera top in medallion paisley
(as well as the matching cotton pencil skirt)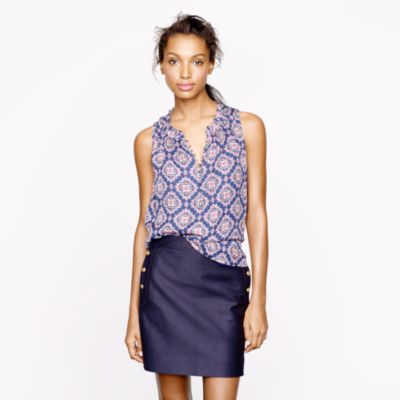 However, this is too much like the nightshade set I bought last year and did not wear much (maybe more this year - we will see...)
I think however, if I buy anything in this print, it might be the
Rosie dress
in the same print. Can't wait to see some fellow bloggers review it!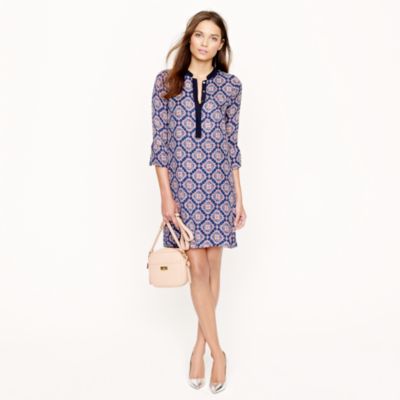 I also liked the
gilded brocade top
below, which I think could look nice with my ivory linen trousers, jeans (and other things if I wanted to do the work) but which I am afraid is kind of aspirational dressing (unless I plan a trip and then I am all over it!)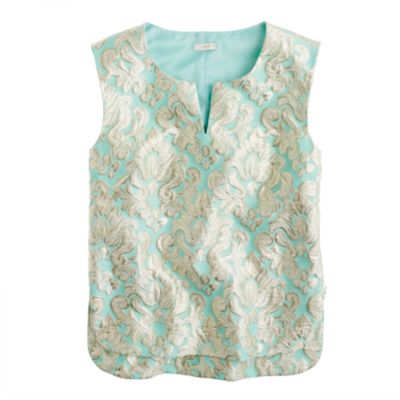 One thing I am waiting for and will pounce as soon as it is released: The peony tshirt below. I may even call my VPS about this one as the peony is my favourite flower! You can see it online
here
.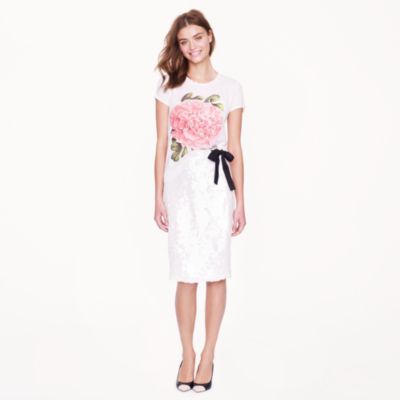 That is it for me! Not much huh? My one horror:
The
pixilated houndstooth skirt
. When I saw it in the lookbook, I liked the quirkiness of it. It would match with the valentina slingbacks I bought last summer. I thought it would look fun with my pale lavender sweater. I have a lovely apricot cardigan that it would look sweet with. I thought "
that could be my cheeky spring skirt
" Of course, we need to ask ourselves, does Wendy really need a cheeky spring skirt? Well maybe not... However, when I saw that the fabric was poly acrylic it was a no go. Sigh... J Crew...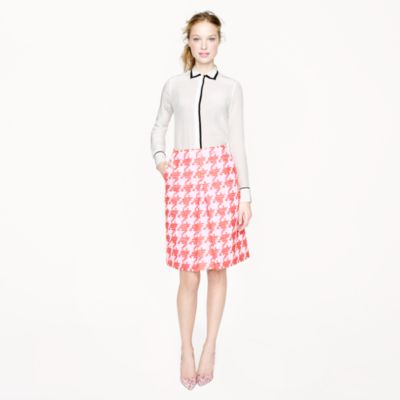 An addendum! I visited Dani's
blog
yesterday and a
collection tuxedo pencil skirt
that I had dismissed turns out not only to be a wool/silk blend, but lined in silk!!!!! This is shocking news! It is also pretty and might look nice with my peony tshirt!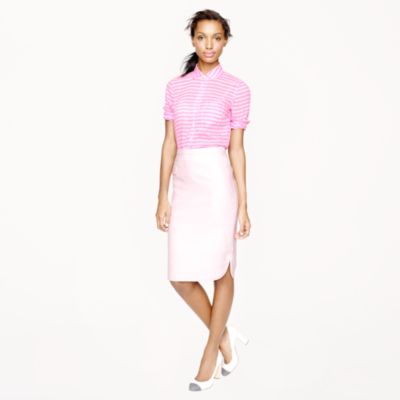 ButI am also looking around... I visited the Garnet Hill website last night and saw a few things to like:
The Eileen Fisher Organic Cotton Ballet-Neck Dress
. I could see this belted and under cardis and jackets.
The Brora Liberty VNeck Jersey Dress
:
The constant in all my choices? For spring, it will be only silk or cotton. I don't need much and whatever I do buy will have to be both comfortable fit-wise and in how it feels! And it must breathe!
How about you? Are you seeing anything in the new J Crew or other retailer's spring offerings that are caching your fancy?
**************
Yesterday's discussion on identifying gaps was really interesting for me! Some of you have it down pat, others, like me, are learning to identify gaps. On Tuesday, I wore an outfit that made me uncomfortable all day. It will not be repeated.
Today, I dug out a dress that I bought for $30 euros in monoprix in Paris (and have only worn twice!), and paired it with Michael Kors booties and my navy tippi. I read recently that when you want to hide a multitude of sins that a fun way to wear a cardigan, besides simply leaving it open or belting it is to only button the top button and leave it to swing and be a little A line. I tried it and quite liked it. Most importantly, it was comfortable! I think this dress is about to see heavy rotation in my wardrobe!
They call this "tonal" dressing and it is supposed to make you look thinner. And apparently, you can do this with shades of any colour! So hang on, I will be "tonal-ing" all over the place!!! My one complaint in this pucture is I could use a little colour on my lips. Ah well. What do you think??