It is Friday! I thought the weeks would go more slowly whilst I was off, but nope, they just nip along like always!!
To get you in the mood for happy hour at Dani's, which she gamely hosts each week, not yet turning off the porch light, I thought I would share a few more pictures of last weekend's "do":
Yup - those are indeed pigs in blankets! Big hit of the evening!
Yup that is people between the age of 35 and 65 dancing. I think we were in the "strut your stuff" portion of that dance and Barry was just heading into the center...
You don't see this kind of leisure suit in my kitchen every Saturday night...
Our close friends, dressed like Bianca Jagger and "escort".
My friend painted old workboots silver! I loved them and am now thinking I want silver workboots!!!
The point in the evening when everyone is around the table eating, eating, eating. Oh yes, and drinking champagne...
I leave you with the image of my husband dancing to the front door to answer it. You will either wish you were coming through the door to see that or relieved that you were not!!
As I said, a good and silly time was had by all..
Two things that I saw and liked online this week (besides all of your wonderful blog posts or comments, depending!):
1) The
Painted Carousel Shell
over at Anthropologie: I can thank Miss M over at
Shopping with M
for putting that idea in my mind - I always love what she loves...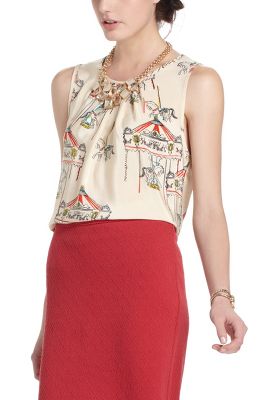 There is something just so whimsical, and well, so Spring-ish, about this silk shell! I just love it...It is in my cart, but nothing more till next month for me... What do you think of it?
2)
a blouse whose name I do not yet know
, of a yet-to-be-determined-material, which will likely look like a hot mess on me in real life: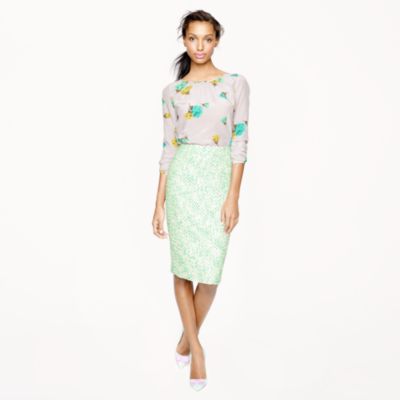 This had a sweet Spring vibe as well. I think this is the Spring of Sweetness. Lucky for you, I bring the sour with me!
I also saw that J Crew has released some
spring loafers
, which look a LOT like the Gap's loafers of last fall (Oh FFM - could I finally have found one for your blog???):
I confess to liking the striped ones, but I think I will stick with my espadrilles...
What is up this weekend? Barry and I are making an Indian feast for a couple that we have not seen for a couple of months. It should be really fun and really yummy. We don't make Indian food from scratch very often, but when we do it is amazing!
It is hitting -24 here all weekend. Good Lord! Stay warm AND safe out there!!