Happy Monday!
Sorry for not posting yesterday! We had a grant feast on Saturday night, but sat at our table talking until 1:30 am. You know you are having a good time when you can do that! But the result was that my Sunday body wanted to lay around yesterday. A lot. But sometimes a restful Sunday is a good thing if it is the result of a very good Saturday night with good friends!
Were you surprised to wake up this morning to the 40% off sale at J Crew? I was, even though I know there were good sales going on in the stores.
As you know, I have been really good about J Crew lately and about shopping in general. Since I am not currently working, I certainly don't need or want to add to the working clothing which is already hanging quite forlornly in the back of my closet. However, I have been thinking I might need another pair of minnies and so when I saw the British Khaki on sale for only $48 CDN, I bit. "Very versatile pant," I told myself "excellent for working around the house and running errands tucked into boots. Can wear into Spring."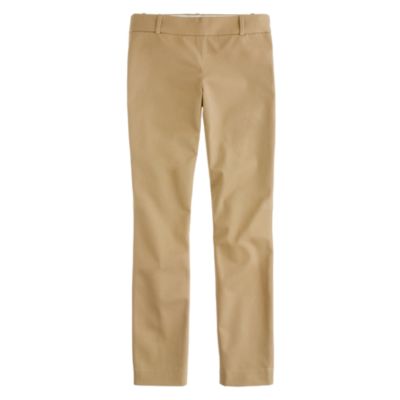 I then saw that a pair of shoes I have been stalking, the metallic blue ballet flats, were also available in my size this a.m. You know that I love royal blue; these seemed a no-brainer for $56 CDN and something I could wear now around the house, but look forward to wearing in the spring, as well. I had been looking at the suede, but I have pink suede flats, which although I love, are harder to take care of and woe betide the person who gets caught in a sudden squall. No - it would be the metallic flats for me.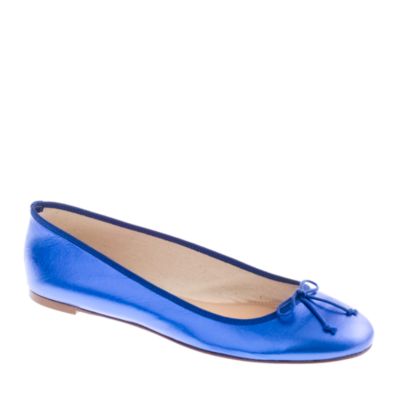 What you need to know is that I had this conversation in my head for about 10 minutes. I checked my Paypal account balance - I had more than enough to cover it. I chatted with husband who said "I think those are sensible purchases", since he has agreed to be my "person" to make sure I no longer buy things for events that do not even exist in our town! I questioned how much I would wear them and in what situations. I imagined outfits in my head. In other words: I was making an INFORMED and THOUGHTFUL decision. This, in stark contrast to my usual "Oh look there is a blue shoe, must buy because it is 40% off!" kind of decision. I was proud I tell you, proud.
And then poof - they were ripped from my shopping cart! My thoughtful choices are now winging their way to other homes, off to make other shoppers happy. Oh sure, they may pop back before the end of the sale. Oh sure, there may be some other treasures, well loved and waiting to be discovered. But it won't be the same. sigh.... On a positive note, I still have lots of money in my paypal account. And the universe obviously wants me to have something else!
Update: weeks ago, I changed all my j crew acct info to my personal email, not work. When I happened to look in my work email about 5 minutes ago - I had an email from J Crew saying "thanks for your order"!!! It never showed up on my screen when I submitted - it showed the items as gone. Has this ever happened to any of you? so now I guess I MAY have these items coming. I will believe it when I see it... the JC universe and its weird and wacky ways...
***********
My other random Monday Thoughts:
I read an interesting article about
Jenna Lyons
in the New York Times yesterday, which some of you may also have caught. Called "The Woman Who Dresses America", it was a gushing, though thoughtful, article about the challenges/benefits of now being fashion's "it" girl. I can't help it - I do like her. I don't know if the modesty is all an act, but I think she is quite charming, although I am not thrilled with the direction she may be taking the store these days. Having said that, I was still up this a.m. looking to see if something I was stalking had popped back, only to have the "adventure" described above, so I am in no position to be too high and mighty about J Crew!
***************
Mrs. Obama's new hairstyle:
I don't know what I was loving more - the bangs or the blue. It was a toss-up. I think the new "do" makes her look 10 years younger. Well done, Mrs. O!
******
And finally, I did watch both parts of Oprah's interview with Lance Armstrong. I was a fan of Lance's in the day, when he was winning all of those titles and being so inspirational. I am not going to jump on or off the bandwagon of heaping abuse on old Lance. However, I will say that I did not have the sense that this was a man who truly understands the impact of not only his lying (which would be bad enough), but even worse, of his bullying. He was saying one thing, but I felt his body language was saying something else completely. But maybe that's just me?
Have a lovely lovely Monday. Would love to know your Monday thoughts and hear all about your weekends. It was -15 this morning - back to heavy down coats for me! Stay Safe and Warm Out There!