Okay - yesterday was a deep day. But to quote one of my favourite singers from the late 80s, Edie Brickell, "choke me in the shallow waters, before I get too deep.."
So today is all about the reno of my laundry room.
It isn't completely done, but I am so excited I could not wait to show you anyway! All of the work was done by Barry except the crack-filling of the ceiling. Isn't that amazing? (well not yet I know, you haven't seen it yet, but remember how amazing that is when we get there, okay?)
This was the ugliest laundry room
I have
ever seen
. Dirty brown broken linoleum floor, old panelling painted a horrendous yellow, a broken window. To be fair, the broken window was a relatively late addition to the already disasterous room. It was broken purposefully by my son, who, upon finding himself locked out of the house during a bad snowstorm, and for some reason that is known only to him and his god, broke it to get in the house. He never thought to go next door and use the neighbour's phone to call us! Yes, I know. You don't have to say anything. I know. There is more to this story, involving an ambulance, broken glass and a cut bottom, but I do not tell the whole story without having at least 2 drinks. I am saving that one for Miller Time! I know - off topic, but I am painting a picture here of utter desolation and despair. And we lived with this desolation and despair for 15 years.
Please, compose yourselves. It is sad, but we must all soldier on.
Sadly, i forgot to rush in and take a picture just before Barry ripped up the linoleum floor. Likely this was some kind of blanking out on my part! The picture above shows the stained concrete beneath.
Looking at the old window and the drywall. By now the old set tub, worn down by too many years of the dog and other things being bathed in it, is gone.
To the right of the window was another cupboard and a water softener and water heater that were open in the room. Always attractive. Makes you want to go in and shoot darts, doesn't it?
Walking into the room, the washer and dryer on your left. You can see he had everything torn apart...
He actually moved the door three feet to the left and built a new wall so that the washer/dryer could move over and make room for a nice new sink.
And he had by now torn out the old stained, dropped panel, ceiling, though you can see the delightful fluorescent light that had guided my laundry practises these last 15(!) years...
And in the middle of the reno:
THE REVEAL:
Consider me the Oprah to Barry's Nate.
TA-DA!
Opening the door...Do you like the fun floor? New walls, new window, new hardware on the cupboards! New ceiling! New light fixtures! All painted a nice crisp white and seafoam green.
Over the washer and dryer is a new countertop, a new deep laundry sink, lovely new lights, the fresh walls. In the bottom right hand, you can see that he has not finished the facing that will go in front of the sink. The little cupboard up above the sink to the right hides a laundry shoot
(okay - all you early commenters, you must like me cause not one of you told me that I had typed too quickly and wrote shoot instead of chute!!!!)
from our bedroom to the laundry room! The laundry sink even has a built-in washboard in it! Isn't that smart?
A close-up of my basket for detergeant and the new clock radio that we went out and bought so we can listen to music or CBC while we fold laundry:
Lovely elegant trim on the ceiling.
And a new cupboard that hides the water softener and the water heater. It is just so bright and cheerful!
You can see that my beer fridge does not have the cupboard finished over it and painting is not completed on that wall. He is still working on that!
The walls are bare, but not for long. We are awaiting two Etsy orders. Over the wall where the clock is will be these symbols, which will be helpful for someone like me:
And over the countertop, visually between the two lights, will be this definition: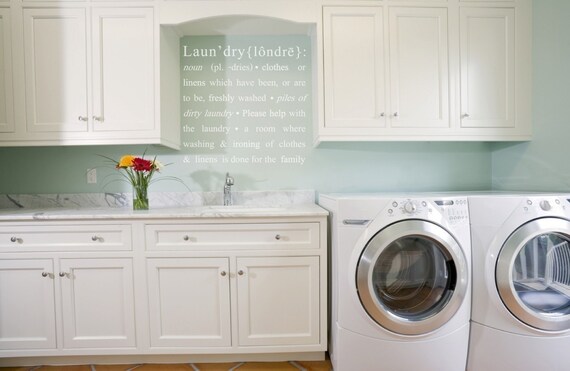 I think you can see the inspiration for the colour! The whole room now feels fresh and clean, which is a delight when one has to do something as prosaic as laundry. However, if truth be told, I think I loathed doing laundry so much because I loathed the laundry room!
What you can't see is that in the summertime, my laundry room window will be partially filled with bee balm and honeysuckle as there is a lovely patch of it right outside that window! When they are in bloom, that window will be open constantly!
So what do you think? I think Barry and I could do this professionally, don't you, searching our ugly laundry rooms around the world and like Mike Holmes "Making It Right?"
Now when you come over for a glass of wine, we may just haul our chairs down here, to watch the laundry spin around, listen to music and the humm of progress and just enjoy it all.
I hope you have the loveliest of Thursdays! Stay Safe (and for many of us, warm!) out there! FFM, I may just get in my car and drive to you - the thermometer just hit - 22!