Happy Monday All!
T.S. Eliot famously wrote that "
April is the cruellest month
", while
Winter kept us warm, covering
Earth in forgetful snow, feeding
A little life with dried tubers
But here's the thing: I am pretty sure T.S. Eliot never lived in Canada in the winter. It has been -20 to -35 with the winchill for over a week straight and when I woke up to -15 this am, I thought about breaking out the flipflops. I am well and truly sick of my long black down coat, which husband has taken to calling my "cloak of darkness".
So last night, I revelled in watching the arrivals of the stars to the Screen Actors Guild Awards, if only to see something that was not covered in down!
My favourites?
I was quite crazy about Amanda Seyfried's dress - so becoming and the colour was lovely!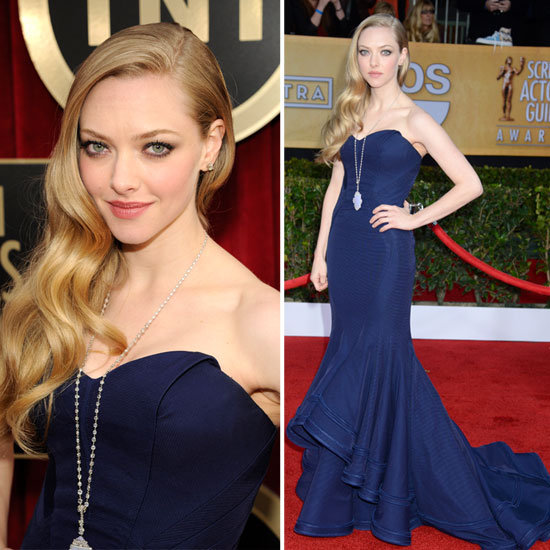 I also really liked what Julianne Moore wore (which is pretty typical for me):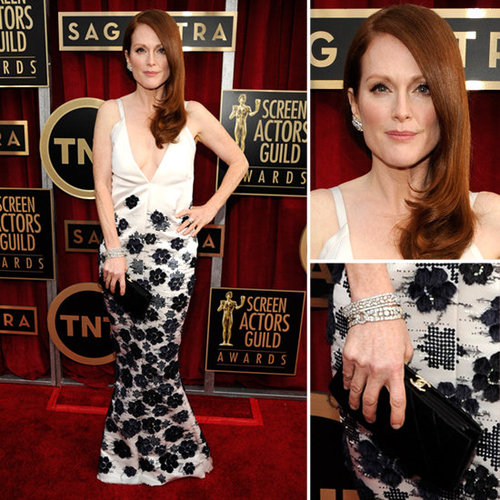 Jennifer Lawrence also wore navy to great effect:
But the poor thing ripped her dress on the way to receive the award (but was totally cool on stage!)
Claire Danes continue to impress me, last night she was wearing Givenchy, which artfully takes care of the 6 week postpartum body (not that she needs it - I think I am carrying her baby weight!)
But my favourite? Marion Cotillard in what else? Christian Dior!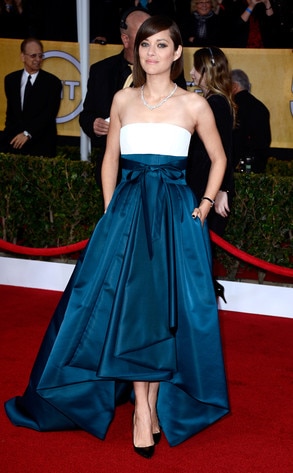 The one thing about award season - it takes my mind off my Cloak of Darkness!
On another somewhat related topic, I am still on my self-imposed and disciplined shopping ban. Since I am not working right now, I am not even really wearing my dress clothes, though I do try and dress somewhat nicely each day! If you recall - I week or so ago I ordered the british kakhi minnies and metallic blue ballets with some paypal funds I had, but had no idea if they were going to arrive since the order was so odd. Well they came late Friday afternoon and all is well. I will take a picture of the shoes later today and share.
So I am shopping my closet and trying to wear things that I have not worn much this winter to see if I can justify their existence in my closet. One of these items is my Basler peacock blazer. In June of last year, I HAD to have it when I saw it on the rack at my local boutique. But it is a lot of jacket, if you know what I mean, and I have only worn it once or twice. But it was EXPENSIVE, so I am trying to find one outfit a week to pair it with to get my cost-per-wear down!
Saturday night, we went to a dinner party. It was -25 so no dress or skirt for me, and it was basically a casual dinner anyway. So out came the peacock jacket, which I paired with a simple Michael Kors navy pullover and jeans and loafers.
This is a unique jacket which I love on the one hand, but loathe on the other. Because I seem to lack sartorial imagination, it easily creeps into Golden Girls territory if not treated carefully! All outfit ideas are gratefully accepted. Given the stupid price I paid for this, I need to wear it till am 70!
Well that's it! How were your weekends? Any big plans for the week? Stay safe out there!