Where to begin? So much to talk about!
1) the fate of the skirt
Ah the wedding cake skirt. There were fans, and then there were folks who thought it was just okay.
Yesterday, the skirt was returned, along with the sandals. In the end, it wasn't the hem that was the final deal-breaker. I went back and asked myself the critical three questions: 1) do I love it? (yes) 2) was it flattering (I guess) 3) was it the image I want to project (no - in the end I thought it was too sweet for where I am heading - I know, an odd explanation from someone who just bought fancy pants!) Thanks so much for the input! As you know, I am on a budget and it just didn't make sense to keep it.
2) Iron Man 3
Dear daughter and I went yesterday. This is your proto-type summer blockbuster movie, but Robert Downey Jr. elevates the genre with his witty asides and the fact that we know that he knows that he is having a blast making a super hero movie makes it feel more interactive. The film acknowledges last summer's
Avengers
movie in a smart way and if you go - stay through the 5 minutes of credits for the bonus scene at the end.
3) Prince Harry takes Capitol Hill
Oh what is it about a bad boy? Sure, Will will have the crown and has a lovely wife and soon-to-be-lovely baby. Harry prefers more "exotic" experiences at this point in his life and who can blame him, him being so darn cute and all.
This week he showed up on capitol hill, and wowed them, starting first with the first lady:
Oh sure, he impressed the military families he met along the way, but it is was the female political staffers on the hill, that were as big a part of the story as Harry himself. Armed with cellphones, and desperately trying to quell the need to scream "Harry!" over and over again a la the Beatles storming America in the early 1960s, each secretly wished he would turn their way and decide that marrying an American was just the ticket!
The one thing I know for sure: the pencil skirt is alive and well in America. And I am pretty sure that Harry is single for another day.
4) Is There Life on Mars?
Bowie asked this question best, but it turns out that yes, there will be life on Mars soon enough. I am slow getting to this story, but it has intrigued me since I first heard about it.
The Netherlands-based nonprofit
Mars One
is planning to fly teams of four astronauts to the Red Planet, with the first landing slated to occur in 2023, exactly 10 years from today (April 22), to establish a human settlement on our planetary neighbor.
Gee, sounds exciting huh?
Except this is a one-way ticket only folks. At this point, they haven't figure out how to get you home again.
Successful applicants will have intelligence, resourcefulness, courage, determination and skill, as well as psychological stability, said Mars One ambassador Gerard 't Hooft, a Nobel Prize-winning theoretical physicist.
Successful candidates will face 7 years of grueling training that will hopefully prepare them for all of the situations they will face and will also provide insight into whether or not they are really suited to live the rest of their lives in space.
This has caused quite a bit of dinner conversation Chez Moi. My husband and daughter are firmly in the Star Trek camp on this - i.e. to boldly go where no one has gone before - while I am firmly in the "oh my god, even the thought of this makes me claustrophobic and depressed" camp. Leaving behind my trees and the the ocean and all of my friends and family would make me weep. So I will pass on the application. I wondered whether they would get a lot of applicants, but apparently there are over 10,000 folks who have already emailed to get more background information. What do I know? What do you think of this endeavour? I guess it had to happen sometime...
5) The unlikeliest of heroes
You all know the Cleveland story. The road back for the three women and the little girl held in captivity will be long and arduous and they are in my prayers. But the man who helped save them, Charles Ramsey, has become a bit of a folk hero, not only for the deed itself, but for his colourful retelling of it all afterwards. If ever a man was meant to be interviewed by scores of media outlets, it was this guy. If you like Charles, buy the tshirt (all proceeds are apparently to go to a fund to help the three women rebuild their lives)
This story has been a mixture of horror, the will to live, heroics (mostly on Amanda Berry's part) and while we cried with happiness about the women finding their way home, I couldn't help but wonder what horrors lurk in the hearts of some that would want to enslave someone. I have never been able to understand this, from the first time I read about slavery as a young child, to this past week. There is so much good in the world, but there is some real evil, too.
but let's end with something happy, shall we?
6) When people really know you
I went to one of my first goodbye events this past week. This one was very special; it is the branch I was director of for 7 years. They took me to dinner, said nice things and gave me a lovely necklace and a plant. But my favourite present was very personal to me on many levels. The Wizard of Oz is my favourite movie - these folks knew this. They also know that if I ever had a work family in my life, they were it. This little plaque will have pride of place for years to come, not just because the sentiment is so good, but because of the people it represents: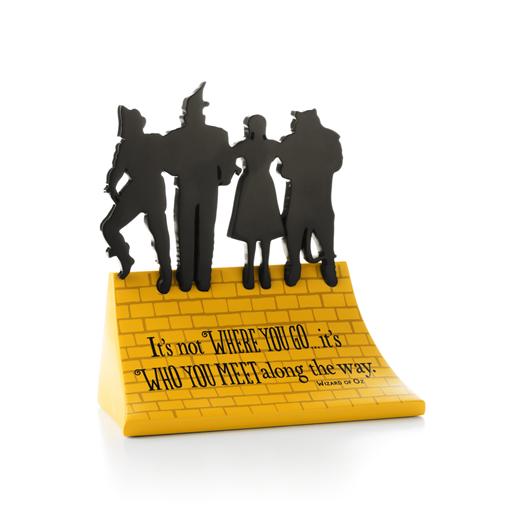 There, now isn't that a nice sentiment to start your day with?
Have a wonderful Saturday and stay safe out there!