First - thank you all SOOOO much for your help yesterday! You can only imagine that this is going to be the beginning of an ongoing dialogue of all of my fashion questions!!!!!! I am an insanely curious person and never shy to admit I do not know something!!!! I am pretty sure my stupid questions will take me to the elusive 40 followers!!! :-)
Well.....
I was surprised to see a new JC rollout today. Don't know why, I guess I am a creature of habit and they have typically been on Thursdays and so I did not even look at the website till I saw others chiming in on my lunch break! Actually, I am being so good - not looking at the website at all these days! Dani's good book tells me that is a trigger point and so I am only looking when I need something!!!! Oh, I am a work in progress, but making progress!
I would like to say that i am excited/besotted! But I am not! I want to see some differnent styles, not simply different prints! I read somewhere (got to dig up that article) that this is becoming the most boring couple of decades in the history of fashion - we are all dressing the same and so tastefully! The curse of the fashion stylists? I miss my dad's 70s leisure suits or my husband's bolo tie from the 80s.. This topic deserves its own post and I will find the article and post on it!
But I digress...
I did visit the website tonight.
What did I like?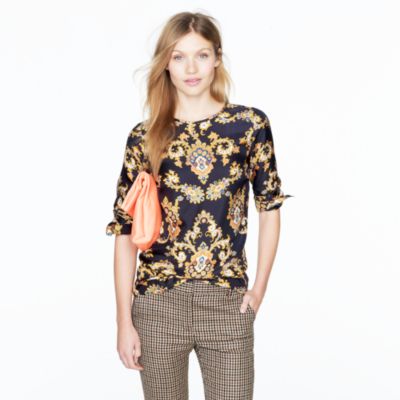 The collection golden paisley blouse.. Not sure this will look good on me, after the foulard print debacle. Waiting for some reviews and a random windfall..
Convertible Clutch in neon coral. I think this would be fun for the fall/winter...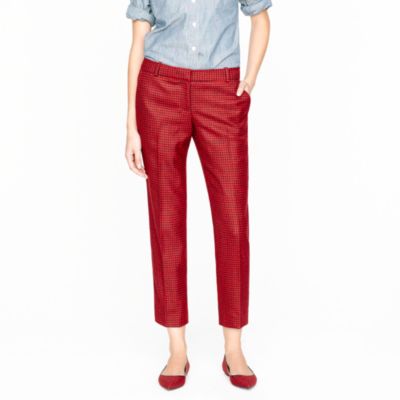 The collection cafe capi in houndstooth - these are really expensive, but I will watch these until they and the shoes go on sale and then pounce! How awesome would these be for my christmas pants?????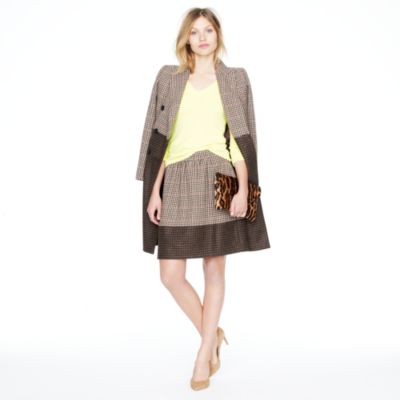 Colourblock check mini.
Ah - you poor tall ladies. At 18 1/2", if I size up and pull down, these will hit right at my knee... This is cute and is on my sale watch!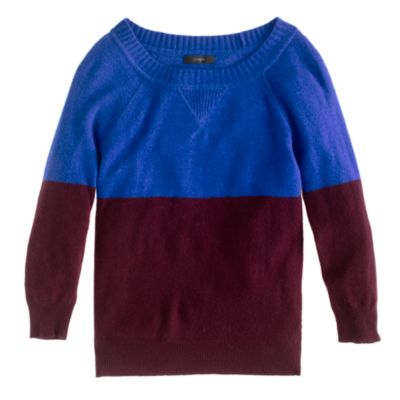 Dream Colourblock sweater. I KNOW - dream yarn. but the colours are MY colours... I am going to wait for sale and then see..
What I REALLY liked was the first look on the home page that points you to the cashmere shop:
It is a bold use of colour, but so pretty! I am tempted to try and recreate this tomorrow - I love the lilac and yellow! And those shoes....
Everything else I liked was so outrageously expensive it is not even worth listing....
And I continued to wear blue today, though tomorrow is 30/82 and all my summer blues are packed away now...
My daughter accused me of wearing out blue's welcome, but I was unrepentent...
The blazer is one I picked up in July at Le Chateau from their fall pickings:
It is so pretty! It is polyester, but I loved it so much that I decided I did not care. Sometimes, one must look past one's better judgement for a beautiful thing... :-) If you don't care, you can get yours
here
.
When I got home there was a JC box from the recent 30% off sale. The wool skirt in festive blue and the toni tassle loafers in champagne. Will take some pictures and post in next day or so!
As always, have a wonderful day and stay safe out there!