Tuesday, Tuesday, Tuesday....
While March actually went out like a lamb, April arrived cold, rainy and blustery. I am typically 36 hours behind whatever weather GF and Dani are having, or, if the wind is blowing the other way, I am about 6 hours behind whatever weather Lane is having. So not sure who got this first, but it was a shock to the system..
And speaking of shocks.
Have I mentioned we are budgeting?
Have I mentioned that we have never typically budgeted?
Sigh...
We started this budget on January 1st. We have an online tracking tool and we enter everything. It can be tedious, but also empowering. We have budgeted amounts and we try very hard to stick to them.
We talk about money.
When you are both working and have good incomes, you tend to not think about these things. We have good pensions built up, we have invested (I won't talk about the losses of the last few years), but we have never tracked how we spend money until now. For us, money was definitely an art. We could spend with the best of them! And on such nice things!
Why the change? Well my husband's retirement and new part-time business has meant that he has reduced monthly income and sporadic business income. My sabbatical has me considering a career change. We have one child in university, the other potentially about to start. We need to finish paying off our house and we needed to save, stat.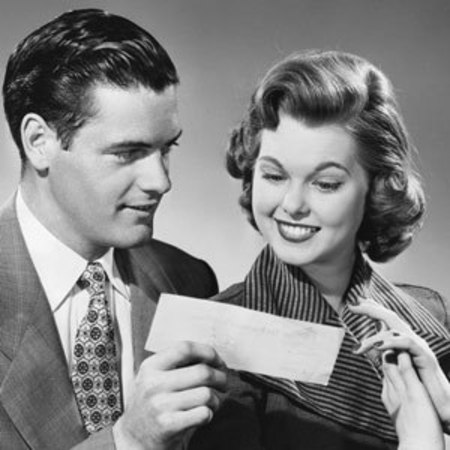 Look honey, our ship has come in. our investments in Blackberry worked!
The early conversations were NOT all this cheerful...
It turns out that I was secretive. I did
not
want to share how much some of the things I have cost. He suddenly wanted to take up a hobby that would cost $20,000 to learn.
But, we have just finished month three and we are doing much better. We sat down today, revised our expenditure numbers downward again, to squeeze a little more out of our wallets and we survived the conversation intact. I only wanted to yell once, and I didn't. Really, I felt like someone should buy me a pair of shoes and a new skirt as a reward. Oh wait, that was the weekend's shenanigans...
For 28 years I have managed our money and did our taxes and that was that. And we never talked about money except when we had a situation arise. This was due in part to my need to control and his complete lack of interest in anything monetary. Now we are taking a team approach and I must say, it feels really good. We didn't fight about money often, which is good according to
this article
. But we were not on the same page at all, and I think if we hade been earlier, we would have even more socked away!
My next step is to actually sit down individually with each of my children and show them our budget. Right now, they each get an allowance. They help out around the house. They have work in the summer. But they need to learn to have these conversations and make good choices early, since who knows how easy it will be to get good jobs or affordable homes when they are finally out on their own.
My dad never talked to us about money. He just squeezed every penny till it screamed. I think there must be a middle ground. While our kids have always had to put some away, I think we can all do better and they can learn to be a good financial partner.
So yup, I am a bit of a fuss-budget these days! How about you all - is money an easy topic of conversation around your house?
Have a great day and stay safe out there!