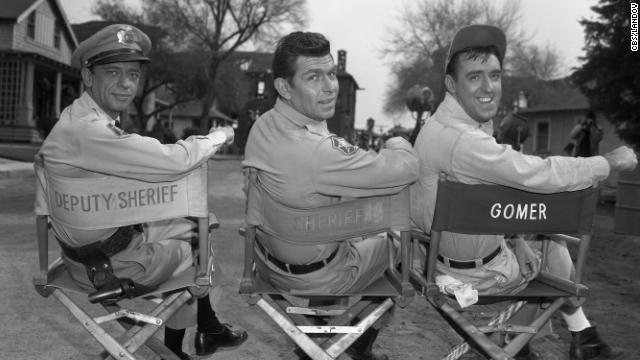 Dani has Leave it to Beaver: I can't get enough of the Andy Griffith Show. When I heard Andy passed away today at age 86, I had to send a little homage out to him. That show makes me laugh out loud. As a kid, I loved Opie and Barney; as an adult I love Andy and his quiet charm and patience for all around him. You just know you could pull up a chair at the table, dig in to Aunt Bee's pie and get a good dose of common sense and caring.
We also had an album of his in the 1960s (remember albums?) called "Andy and Cleopatra" which was from his comedy act. My sister and I thought he was hysterically funny and would play it over and over again. He always talked in that aw shucks way, but he was an astute businessman.
Andy - you were a great man and you made my childhood a whole lot brighter. I am hoping that you and Don Knotts have them rolling in the aisles of heaven already!