This is a topic that it quite a conundrum to me! I have a pretty big job, one that requires me to "dress up" on a constant basis.
Yesterday was hot as blazes (again!) and I chose to wore my new capris in the navy eyelet , rococco top and featherweight cotton cardi (you can see the outfit
here
, sans cardigan) and little Jessica Simpson Davida sandals (I didn't really note them in the post, but they are really cute and you can order them
here
:

These are cute and comfortable sandals. But I digress...
I loved this outfit, but really, it did not feel corporate or like something a boss would/should wear at all. While I did not have any meetings outside of the building, I still felt decidedly casually dressed. This is a real problem in the summer for me, especially.
In my job, I should normally dress like this: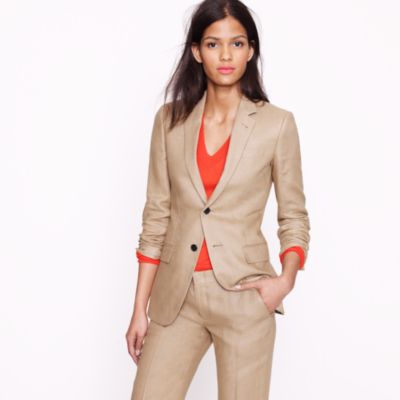 or this:
I typically would dress like this in the fall/winter. But I struggle with that look at times - it feels very uniform-y to me! And I am not always sure I look good in a blazer...
So I wear a lot of pencil skirt/jacket, pencil skirt/cardigan combinations, but is the latter dressy enough?
See the outfit below. Is this dressy enough? Would you wear this if you were the boss?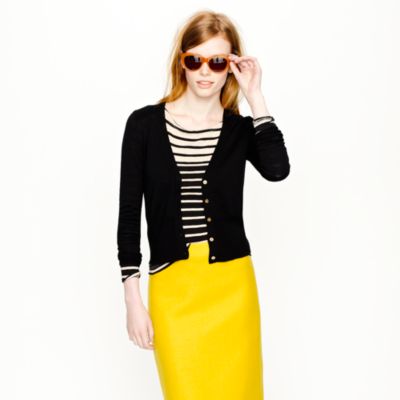 Can a cardigan ever be as dressy as a blazer/jacket?
How do I "dress" up suits so I feel more comfortable in them?
So, this morning, I am trying a little harder (honestly, this taking your picture regularly has certainly helped my willpower to stay on the diet! I cannot wait until I can tuck with impunity..):

Elie Tahari Navy Linen Jacket, J Crew Naomi top, Luisa Cerrano linen skirt, franco sarto wedges

But my question is - would this have looked as polished with a cardigan? If this was a Jackie Navy cardigan for example? Does a jacket make me look larger or slimmer on top?
Those of you who have followed along this far know I like some flash. But I need a uniform and I want to look polished! All advice is greatly appreciated!!!!!!
Should a boss always wear a suit or jacket or am I being too old fashioned?
I know - I am asking a lot, but you will be throwing me the sartorial lifeline here, folks!!!