Well, I am taking everyone's great advice (roll those sleeves - what a difference that makes, ladies!)
I had quite a few meetings today so drug out my Elie Tahari linen suit. I love this jacket - it is very chic and the trousers are quite comfy! You can buy it
here
, although I got mine locally. This is a good shot of the detail on the jacket however!
Here i am! There were many bad photos this am - mostly because my husband was teasing me! My daughter took this one!
ElieTahari Suit, Talbots shoes, J Crew silk lace cami from a couple of years ago!
Tabitha - when you stopped over - you forgot the magazine, pillow and blanket and only drank the bourbon! :-)
I must tell you that I placed an order this morning!
1) I bought the snakeskin skirt!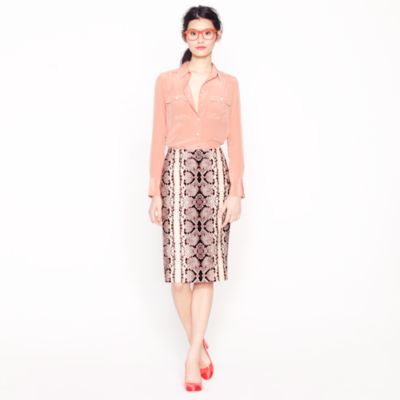 and pre-ordered the sweater from look # 16, which is apparently merino wool and is $118US. I hope it is Merino wool - if it is dream, back it will go!
I am also seriously make this one of my winter items:
the pink coat from look #13 (for some reason I cannot copy these!)
I may yet change my mind......
Have a great rest of the day!