Thursday night, my husband and I attended his retirement party. He is actually quite young, only 49, but works in a profession that is for the young and so it is time to start his next career!
The event was a casual one - a barbecue in someone's backyard. It was also slighly rainy and cool. So a sundress was not on the list of possibilities.
Of course you know I was already wearing my Lauren Hutton trousers, so I thought: "Hmmmm, I hate to change, what to do to tweak this a little more glamorous?" This was pure laziness on my part, but it was also a holdover of feeling very Lauren-y, so the challenge was "how would Lauren change this from day to evening?"
I visited my closet and found a couple of items that I felt would pass the Lauren test, one of which I had not yet worn and the other I do not wear much.
The first is the Joe Fresh ivory sequin cami. Ema, of the amazing blog
My Closet, My Baby and I
wore the long sleeve version
here
.
I paired it with a textured moto cardigan I bought from Anthropologie last summer. I like this cardigan, but have only worn it once or twice. I just struggle to match it with things.
I think it is because I am quite pale. I can do ivory, but I cannot do white very well, unless there is a scarf or piece of jewellry involved. But you know what? With the sequin cami - it is quite nice!
Above is a close-up of the detail on the cardigan. I think the problem was when I bought it, it was during the j crew cobblestone colour craze. I loved the cobblestone colour, but it did not love me and it was not particularly pretty to see on me. In fact, when I wore cobblestone (or when I wear beige, griege, khaki or camel) close to my face I become the poster girl for Les Miserables, playing the part of the doomed Fantine....
However, the ivory sequin top just seemed to lift this whole outfit up! I was quite pleased with the effect. I wore it with my giraffe bangle, which I really love: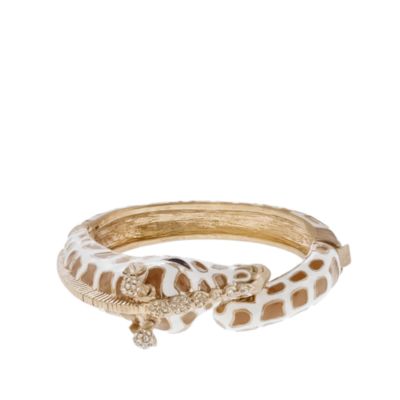 I felt that with the bangle and the sequins, I was kind of "Lauren-Hutton-on-glam-safari" - I was only missing my major domo and doomed lover.
And last, but not least, "the shoe shot"!
The melon luccas from last year, which I still really love very much! I also own the beige version (which I got when it went on extreme final sale last year) but I felt that would be too monochromatic. Of course we know that Lauren would have switched into the ivory sneakers or sequined loafers, but I was not sure that the barbecue folks were ready for that!
As I expected, I was very much over-dressed compared to the others in attendence. However, it was a retirement function and so I bought the requisite wine(s), hostess bouquet, etc. I am a firm believer in putting one's best fut forward. BUT....It was a little tragic, as someone spilled red wine on my trousers.... So I got my just rewards for being so fussy! I was particularly charming and sparkling with my dry cleaner yesterday in a pathetic attempt to somehow charm the stain out with goodwill. We shall see if that works at all...
Oh, and i broke my final sale rule this am when this skirt popped back in my size at a very low price after my gift card: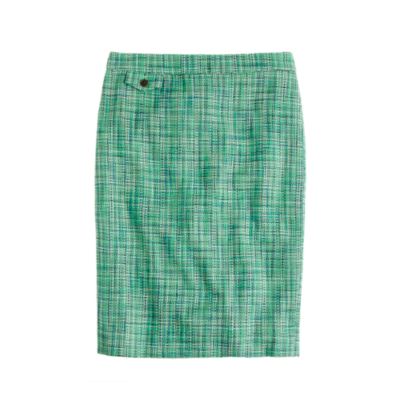 Like the golden burgundy pencil skirt, this is going to be a september/october/march/april clothing item. I really am going to try to do the Dani System, though it may take me the whole summer to achieve!
Have a wonderful Saturday and remember: hold the glass of red wine at a distance, but by all means, hold it!