Good morning all!
Today I am trying out the porcelain paisley/pink combination, as shown on the JCrew website: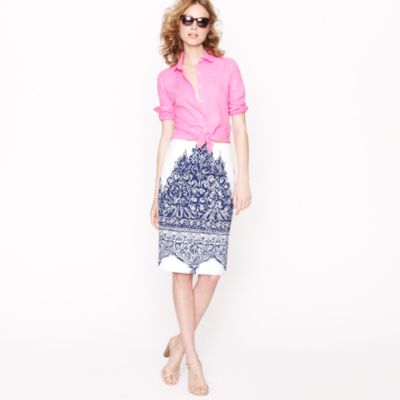 I was actually planning on wearing the nude sandal with it, but my husband implored me to wear the pink aldo shoes. Apparently there is something about an ankle strap that some men find becoming...
I really like this look, and while I am not wearing a jacket, I think it is more than dressy enough for the office..
The blouse is not J Crew - it is actually Ralph Lauren. I have been shying away from button downs until recently, but you all are making me braver! Plus, this morning, I could zip this puppy all the way up and breath! That is an accomplishment. I still have about 10 pounds to go to get back to my regular size, but I am feeling better after the first 5! As you can see, the humidity is really getting to me - it was 7 am when I took this picture and it is already very curly!
Where I am in the wardrobe renovation:
Over the weekend, I went through all of my clothes from summer and winter. It was a cull - in fact there is still clothing lying on the floor in the backroom, like war dead. it is very sad, especially when I think of the collective $ amounts involved... I have a couple more items I will be seeking your advice on, as I just can't decide!
I am working on the fall/winter right now. I will need to take some photos. I have actually done an excel spreadsheet last night on what I own (could I be any geekier?) by category!
My next pass through will be identifying those things I LOVE. Then what I LIKE. Anything I am still MEH about is leaving me as well. Unless you can help me figure out how to make it work!!!
What I know for sure now:
I need a trench coat for Fall. A grown up one!
What I am contemplating:
J Crew icon :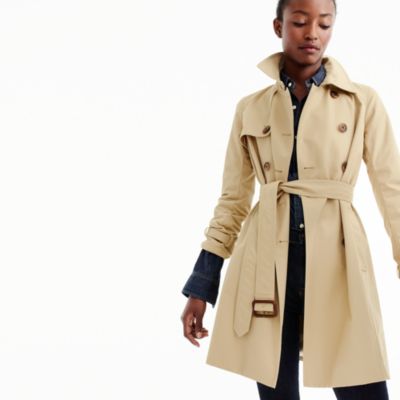 The midnight trench: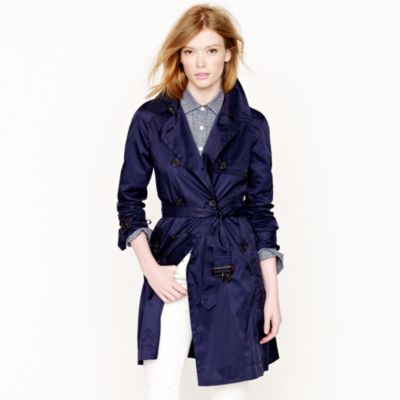 Or the BR trench:
This one suddenly made the cut as it is on sale from $240 for $144 today.
What I also know for sure - I can wear the khaki, but I will need to wear a lovely scarf with it as it can be draining, but it is so classic. I do like the midnight version as well. Opinions?
Soo... Any advice on how I should move through this wardrobe reno?
As always, have a wonderful day! You always brighten mine!