Some may recall my interest in the Brompton purse from J Crew earlier this summer in the rainforest green: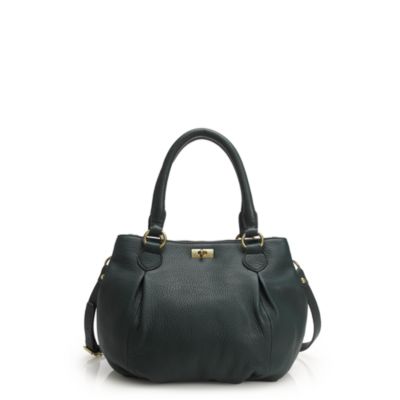 It was to be the faithful companion to the ill-fated Valentina pumps in dusty jade which truly hurt my feet and which went back to whence they came.
But still, I kind of hankered after that purse. It was $298 CDN and I contemplated getting it on the 25% off sale this week, but just couldn't bite. I didn't really need it and while I am doing wretched at not shopping, I was trying to show a modicum of restraint...
I was sort of feeling like young Roddy McDowell in one of my favourite films,
How Green was My Valley....
If you have not seen this film, you are in for a treat (Tabitha has me thinking of treats now!). It will break your heart and uplift it all at the same time! And yes, the green shoe/green bag longing
was
making me sad and a little pathetic...
But as is the case in all Hollywood stories such as mine, there is always another day....
Yesterday, I popped into Winners (the equivalent of TJ Maxx) and perused the purses. And there, was the most dainty little London Fog satchel, just waiting for me to take it home, at the bargain basement price of $80!
Oh she is lovely.
Grey plaid silky interior lining,
Sturdy handle:
Just a genuinely lovely little purse that did not cost me an arm and a leg.
It has been a soppy weekend here. My outfit has been appropos for the weather:
J Crew Naomi top in leopard, pink tartan black and cream cardigan from last year, cynthia steffe ponte knit trousers and my find of the fall - Mr. Seymour short black boots on sale from $430 for $100. They are very comfortable. I do not see them online, but they look quite a bit like this, except in black:
Very comfy indeed!
So green purse in hand, I shall sally forth on those days when one needs a green purse, which honestly, is just about every day...
Yes, I think Roddy
would
be happy!