I have not drunk the crewlade on the bubble necklace.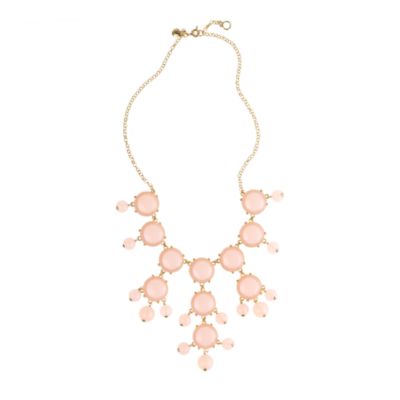 Oh it's not that I don't like it. No, it's just that it is kind of expensive for a piece of costume jewellry that I like, but do not love.
I know there has been some great discussions about the knockoffs on ebay. Again, I let those be, too, since I was not all that keen.
But last week, whilst in line at one of our local shops, I spied a bubble necklace knockoff in a divine shade of green with matching earrings. Since I had just picked up the Joe Fresh black shift, I imagined this green beauty nestled against it. Oh, did I say it was $35? Yup.
Now I am sure that it is not as nice as the bubble, but I am good with my knockoff, but think it so funny that these necklaces are now everywhere!
Me in the shift with the necklace. I am wearing Cole Haan Air Tali ballet wedge heels, which are VERY comfy. You can buy yours
here
.
And a close up of the necklace:
From this angle, you don't get a sense of all the dangly bits. As a digression, my grandmother used this term later in life to describe all of things on her body that weren't well, firm, anymore.
Back on topic - you can see it's not exactly the same as the bubble, but it is clear to me that it is a kissin' cousin... and I got plenty of positive comments, so people are obviously loving the bubble!
Have a wonderful day and stay safe out there!