Happy Monday!
Hope all of your weekends were swell. Mine was quiet; the only low point was updating my Ipad to IOS 6. Sigh.. I am not technical. I had help. But I still lost some pictures. Sigh...Last week was crazy at work. As well, it was my mother's birthday and since she has now been gone for 11 years, I always feel a little sad.
Thought I would do a little review of the double serge pencil skirt in the festival blue.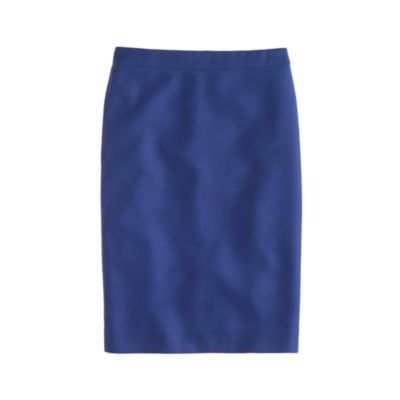 I purchased it recently on the 30% off sale. It was a great price and I love blues, as you know..
I love the skirt in this picture, and I like it worn with the charcoal tights, but I am not liking the jacket and black sweater combo. I am thinking that a charcoal sweater would have looked better or maybe a blouse under the blue jacket. I like the jacket, but it doesn't like me here. sigh... This is the humbling thing about showing you what I wore...
The skirt is a lovely cobalt colour - much richer than what is shown on the web site. It is a great colour and as always I am in a petite 8. I am either a p8 or a 6, but the petite is easier as it requires no hemming!
Other random weekend thoughts:
Did not buy anything after our virtual shopping trip, but I am pretty decided that I will buy. Once I bite the bullet will let you know!
We watched 2 movies on the weekend: Rock of Ages and the Best Exotic Marigold Hotel. Neither was in the running for the oscars or will be, but they were great for what they were!
I also cooked two great dishes - One of them is a fall staple here - cider braised pork shoulder with apples. There used to a show here on food network canada called Christine Cushing Cooks Live. It was awesome - she taught me so much! Sadly, she and the network changed up the mix and the show gradually fell apart. I am sure she is doing something else awesome right now, but I do not know!
It is an amazing recipe - a melange of indian spices and apple cider and reisling. All great stuff! If you are interested, give it a try, the recipe is
here
. Check out the pear ring salad on the same page - it also great and a real crowd pleaser at a dinner party!
Those of you who are vegetarians, just go right by this!
Have a happy Monday! Tomorrow, I will model the navy sparkle cami - it was very successful!
Stay safe out there!