Ah Hosiery...
It could only be a matter of time before we got to hosiery... Love it or hate it, it causes me confusion. And as with all things that cause me confusion sartorially, I lay my troubles at YOUR feet!!! Every pun intended!
So many questions, so little time before it gets cold!
1) Is it better for your tights to match your shoes/boots or the skirt/dress above it? I always wonder about this - if I am wearing navy shoes, can I/should I wear navy hose or black hose or would it be chicer to wear burgundy hose that matches the burgundy skirt?
2) Are black shoes or black hose the great equalizer? i.e. can I wear any colour hose with black shoes?
3) why do I feel odd wearing black tights with my bright red winter suede heels? Is it because it doesn't look or because I am timid? What colour would you wear with red shoes? red?
4) It is too cold NOT to wear hosiery in the winter where I live. Is it ever okay now to pull a Kate or Pippa and wear nude pantyhose again? What do you think? I have none to my name, though I do have nude fishnets... Tim Gunn says no....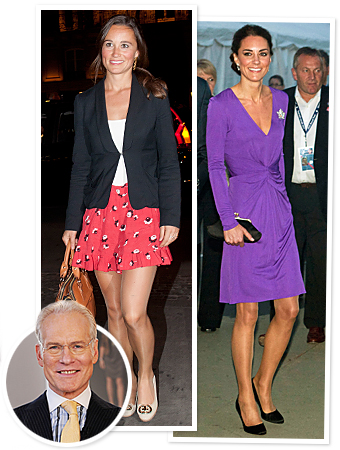 5) Should really colourful tights be left to you younger ladies? I will wear more muted tones, but I tend to only wear colourful tights when I have boots on. What do you think?
6) what about patterned tights for work? Again - if I chose these I would only wear them with boots...
or perhaps slightly more sedate:
7) or textured tights? I am wearing a pair almost identical to these ones today:
All advice is gratefully accepted! I look forward to hearing how I ought to be "hosed"! Anyone else have any hosiery questions????
Today's outfit of the day:
the navy and black dress I bought in Paris at the monoprix for $39 euros, a little ca va de soie black merino cardigan (an oldie, but goodie), textured tights and 4 year old Donald J. Pliner fabric boots that kind of make me feel like Robin Hood when I wear them....
The lipstick is new - drop dead red by Too Faced. I understand they are discontinuing it - likely because I really like it!
have a happy Wednesday and stay safe out there!