Oh, I could have saved this for easter, but...
Yesterday, we talked about my expanding body. Patricia reminded me of today's topic when she said she couldn't give up pasta.
Two Christmases ago, I asked for, and got, this book: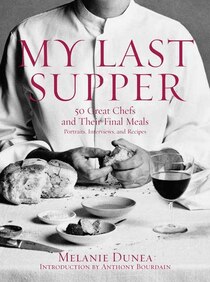 What a fabulous idea for a book! Ask chefs what they would eat on their last night on earth!
Do you care what Alain Ducasse would want?
or Mario Batali
Thomas Keller, Jamie Oliver, Gordon Ramsay?
It is such a fun book and you can buy it
here
(or at Amazon.com or .uk for my friends in other countries).
This is one of my favourite dinner party questions. (I have others, too, which cause quite a lot of debate. My most recent favourite: Patridge Family or Brady Bunch - debate)
Soooooo, you know we are going to play this out don't you?
I will go first! A good hostess always does!
There is no judgement here, only love and acceptance! And as an editorial aside, the following meal is composed of things I love, and is
not
tied together in any thematic or culinary way!
It is my last night on earth, I will ask for the following:
1) champagne (keep it coming, money no object)
2) a really lovely french cheese or two
3) a lovely green salad with sliced pears and a great vinagreitte
4) spaghetti and meatballs (Ina Garten recipe) and some grilled duck
5) a really good garlic bread
6) a really good and expensive bottle of cabernet sauvignon
7) a nice maple ice wine from Canada
8) chocolate cake with 7 minute frosting
9) a good cup of coffee
10) some baileys
Well - what about you - what will you eat for YOUR last supper???
Happy Thursday and Stay Safe out there?