It is mid-June. Oh sure, the weather has not been all that delightful since early May, but it isn't snowing and as such, I simply refuse to complain. As the month wears on, the subtle sun-kissed colour will appear on my friends. But not on me.
I am not a vain creature by nature. I am short in stature. I wear my additional weight on my chin, my chest, my belly. I have three cowlicks. My feet are, well, feet.
But I have a vanity. It is my face. You see, at 50, you start to see the sun damage, the cigarette damage or simply the luck-of-the-draw genetic damage on the face.
I do not tan. I am incapable of tanning, for two critical reasons:
1) I burn
2) I get bored in the sun
So I have spent my life out of the sun and covered by floppy sun hats in the garden.
I never smoked. Oh sure, I inhaled a couple of other substances while in high school, but gave it all up so long ago that I could almost describe myself as a born-again virgin when it comes to smoking anything.
And though my mother died at 67 of complications due to diabetes, her skin was amazing. I can remember sitting beside her hour upon hour the week that she died and thinking "Man, that is some nice skin."
Since that time I have been especially protective of my face - sunscreen, hats, the whole 9 yards. And now, it is beginning to pay off my friends. Compared with many of cohort, I got nice skin. And few wrinkles.
But then there is my legs. White, white, white.
Have you ever seen such whiteness? I am like the Moby Dick of my neighbourhood!
I have a self-tanner kit upstairs, the much-heralded St. Tropez, recommended by Miss XOXO, who I am pretty sure knows something about everything, but I have yet to crack it out. It seems, well, like work. And I wonder if it will look odd to have faux tan legs when my face is most decidedly NOT tanned. So I must ask:
1) do you self-tan?
2) are any of the rest of you going au natural (well, white) like me?
Which do you prefer and what do you think? Maybe some of you are able to tan because of your natural colouring? I always enjoy your thoughts on these things!
*************
I got an email from Tory Burch about their pre-fall 2013 lookbook. I take such emails very seriously - surely Tory herself wants me to check it all out ASAP and report back, which is exactly what I did!
Apparently, pre-fall is a new fashion category. I have been caught, sartorially, with my pants down on this one. Pre-fall is apparently those items of clothing that you can wear now and then wear later. I always thought of those clothes as season-less. Go figure!
Did I love anything? Well I always love SOMETHING, which is the great tragedy of my life, surpassed only by my love of chocolate, flour, George Clooney, Hollywood musicals and accordion music.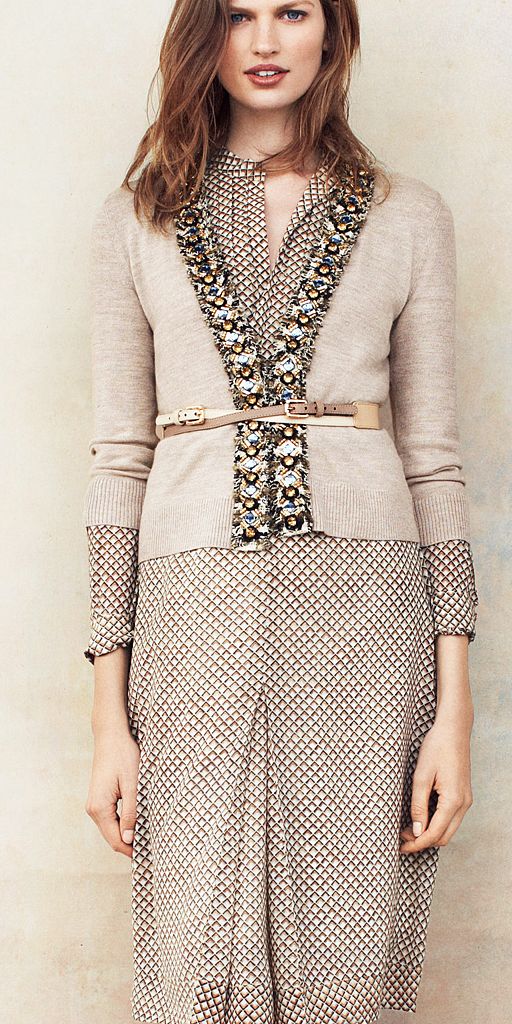 Damn you Tory with those $400 jeweled cardigans!
Do I need C$525 riding boots? No, but if you want to buy them for me in the brown, well, thank you very much!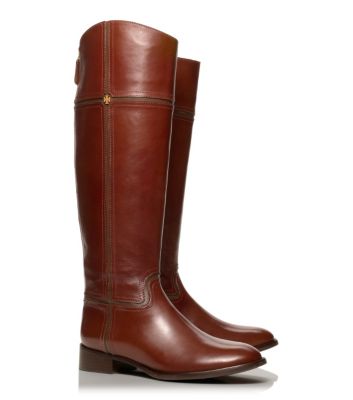 These $250 printed loafers are calling my name..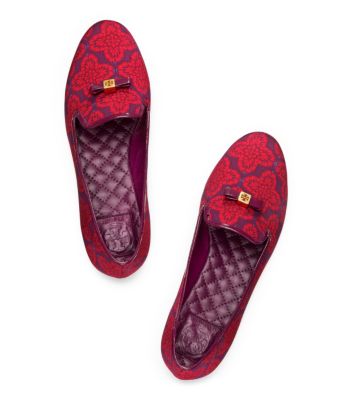 And how chic is this look?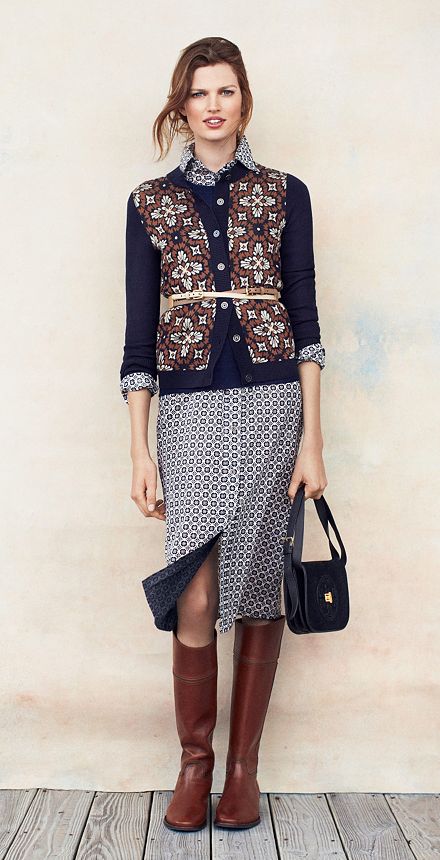 But never you mind, Tory will not trick me with this whole pre-Fall business! It hasn't even warmed up enough for shorts! My goodness, I haven't even decided whether to faux tan or not!!! Is it just me, or are Tory's models looking pretty fair? Maybe they haven't decided whether to faux tan or not either! Have a happy Wednesday and stay safe out there!