Happy Saturday! The sun is shining this morning, and I have a busy day ahead of me, so thought I had better get going quickly this morning!
1) Rumours of his death are only slightly exaggerated
Poor Nelson Mandela. One of my personal heroes is, I believe, hanging on by only the thinnest of threads. But as of the moment of this writing, he is indeed still alive. DW, Germany's international broadcaster, had Mandela listed as dead for a while yesterday. But he was still alive. Whoops! They immediately released the following:
Retraction: Nelson Mandela
We regret that due to a technical error our report of Nelson Mandela's death was unintentionally published. It has now been taken down.
But it was too late - a number of my Facebook pals had memorials up for Mandela. Such is life (or death) I guess. I'm going to continue to send my thoughts and prayers to Mr. Mandela. God Bless him! He has and continues to be a source of inspiration and goodness in this world.
2) The Difficulty of Online Shopping
First - one of only two decent women's wear shops in our city is about to close. This is a tragedy to me, as all of the rest of the stores are very cheap and aimed at young, junior, women. Sigh.
I do not like to buy clothes when I travel. Not really. I hate to shop with my husband for two reasons: 1) I like to ponder my decisions 2) I like to try on a LOT of things in order to find the one or two that fit perfectly. But with only one decent store left in our little city, I will be forced to either do my shopping when travelling or order more online.
However, I have decided that to make it worth my while when I online shop, I order more now than I will actually keep. I know I will have to return at least one thing, so why not return 2 or 3 - it typically costs the same, especially from J Crew.
So yesterday, with the 40% off select items sale, I ordered 3 featherweight cashmere cardigans! Three! I do not plan to keep three. But the cardigans were on sale from $218 CDN for $132 CDN and with the GMCAN15 offer, I was able to order them for $99. I really like the featherweight cardigan - I have two or three already and they are the perfect weight for spring, summer and fall.
I ordered the following three colours: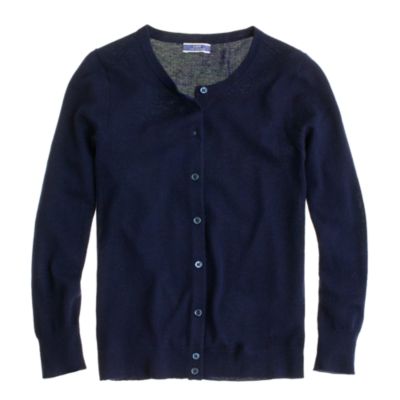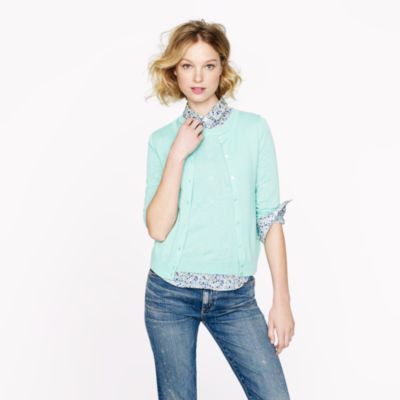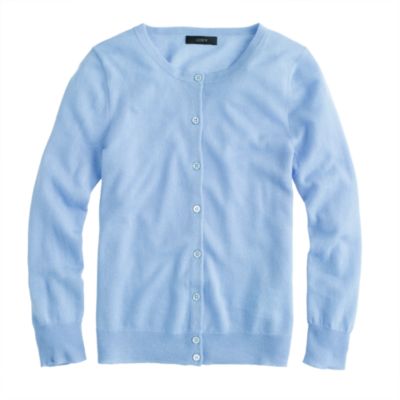 I imagine I will keep the navy, but could not decide between the vivid aqua and the morning sky, both of which I had been watching to see if they would go on sale all Spring, so decided to order both and see which I liked best. If I lived near a store I would be able to just pop in and know for sure. Sigh.
3) When Other Bloggers' purchases begat your own...
And speaking of online shopping. I have been eying the Kiki ballet shoes from J Crew since they debuted. But I couldn't find a review of them. Until yesterday, when our heroine Dani posted a
review
of not one, but three colours of this shoe. I had been initially looking at the black as that is a gap in my wardrobe, but when I saw the red on her below, well I had to order them to try them!
Source: the feet of Dani BP. Honest.
I do not have red shoes. This is odd to me, since I strike myself as a red shoe kind of gal:
Now let's call a spade a spade: Dani is picky. I say that in a reverential, complimentary way, me not being all that picky at all and wishing that I was. So when Dani tells you something is comfortable AND good quality, well I think it is worth a try!
So they are coming in the box with the sweaters that I need to make a choice about. Think of how great they will look with the navy and mint...Oh I hope I don't love all three of the colours...
4) Update on Butch
Remember Butch? This was Butch two weeks ago:
And this is Butch this morning:
He isn't done yet! You can't even see the air exchange to his left anymore. Will keep you posted!



The snowball bush is in full bloom and you can see the Bachelor's Buttons coming out below...
5) Prom
Monday night is my son's prom. The other night, we had a test run of the tux.
He chose the silvery grey. Will get some good shots and share a couple on Monday night!
So what's going on in your world today? I am having lunch with GF (I think!) and Barry and I may go to a play tonight. And oh, I have to run and buy a father's day present!
Have a great day and stay safe out there!