Before I ask my style question, I would be absolutely remiss if I did not say that my heart goes out to our Jeannie of the wonderful Colourful Corporate blog about the loss of her beloved husband. Words cannot express how sorry I am. But our Gigi, she of all things good in the blogger universe, has stepped up in a big way, and I encourage a visit to Gigi's
blog
to learn how we can help.
****************************
Many thanks for your wonderful comments yesterday! I always love to have a crackling good discussion on things I am thinking about and I always love your perspectives!
Today is a sartorial cry from the heart. It is a question that we have touched on before. But you KNOW my mind is a sieve and I simply can't recall all of this important style stuff and besides, you are the only people I trust to tell me the truth about the antics I am about to get up to, so I will fire away.
Yesterday, I received the blush linen v neck tshirt. I would never have picked it except that the aforementioned Gigi had a little picture on the end of one of her great review posts showing how good this tshirt looks with the fancy pants that Tiffany Rose and I now own (they look fantastic together TR).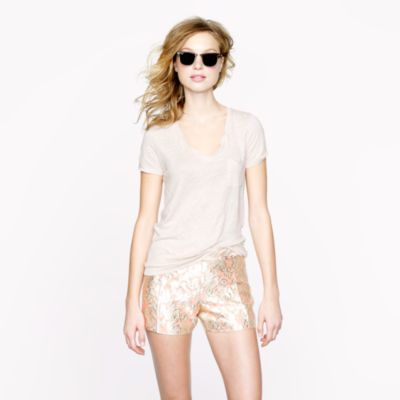 I love this tshirt. I believe I will order one or two more now that they are 30% off as they are a nice weight and basic for hot summer days.
Then I started looking at the matching linen cardigan: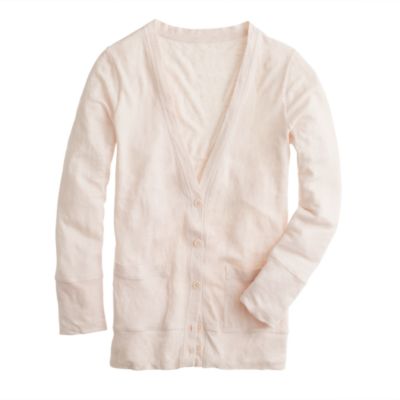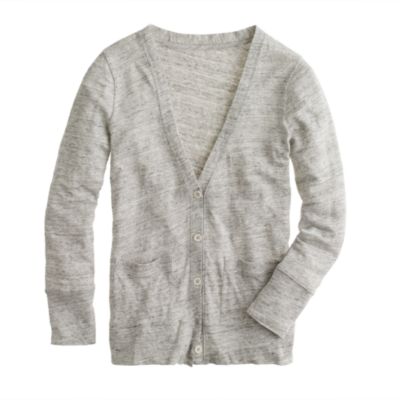 The Copywriter from Space describes them thusly:
We're loving this essential throw-on-and-go cardigan, thanks to a longer length and a flattering-on-everyone shape—not to mention the airy, lightweight feel.
Ah - longer length.
Of course, in the model's case, "longer length" doesn't even cover her bottom: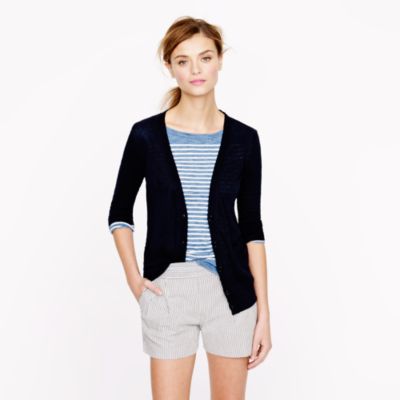 But on me, that same length might be halfway down my thigh, heading for Toledo! And is there such things as a flattering-on-everyone cardigan, or is it a unicorn, a sleight of hand?
So my question is more for those of you who are vertically inclined and for those of you who actually know whether something can look chic or redonkulous....
Yay or Nay?
Am I destined to stay forever with a short cardigan, or can I branch out to longer lengths, greater heights??????
Happy Wednesday! We have friends coming for supper and I am making a house favourite, Poulet Vallee D'Auge. We saw this on an episode of PBS' Smart Travels when Rudy Maxa (he of the preppy style) visited Normandy, and have made it to great acclaim since then:
Poulet Vallee D'Auge source
Servings 4
Prep. Time 15 minutes
Cooking Time 30 minutes

INGREDIENTS:

1 chicken (3 pounds), cut up
salt and freshly ground pepper
3 tablespoons butter
2 large tart apples, peeled, cored, and chopped
1 large onion, chopped
1/4 cup Calvados or applejack
1 cup heavy cream

1 Season chicken pieces with salt and pepper. In a large frying pan, melt butter over medium heat. Add chicken and cook until brown on all sides, about 10 minutes. Remove and set aside.

2 Add apples and onions to pan. Cook until onion is tender, 3 to 5 minutes. Return chicken to pan. Add Calvados, reduce heat to a simer, cover, and cook 20 minutes. Stir in cream and cook, covered, 10 minutes longer, until chicken is tender. Season sauce with salt and pepper to taste.
Have a happy Wednesday and stay safe out there!