Yesterday, we discussed Chambray shirts.
Today, I want to discuss other things that inspire how I dress or decorate.
Movies are a big one. In 2004, when I saw Julie Delpy wear a little black peasant blouse with jeans in
Before Sunset
(see the picture below), I was desperate to find a similar top. Alas, it eluded me.
Last week, I re-watched
Before Sunset
in advance of catching Before Midnight and there was the blouse again, and this time, I decided to try again. After some searching - nada - nothing seemed close enough to delight me.
However, this black eyelet peasant top from this morning's July rollout at J Crew may fit the bill for me: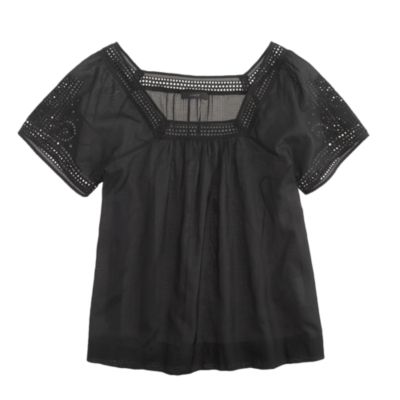 The 30% off doesn't hurt either. I have a white one that I bought 3 years ago there which I still love. I figure this is worth a try and will let you know what I think! The description said:
"
Floaty, airy, light and breezy, this top is one of the main reasons why we love summer so much. Trimmed in intricate eyelet embroidery at the neck and sleeves, it's crafted from a slightly sheer blend of cotton and silk in an easy, oversize tent shape that works for day or night."
"Easy oversize tent"? That either has floating and airy written all over it or 8 months pregnant.... The proof will be in the pudding (and rumours of me eating pudding are just that..)
I had the same feeling when I saw Meg Ryan's apartment in
You've Got Mail.
I just thought it was the coziest spot ever! I was ready to move right in! Even looking at the pictures now make me homesick for it! Isn't it funny how we can become homesick for places we have never been? I suffer from this a lot.
It is perhaps rivaled by Meryl Streep's kitchen in
It's Complicated:
Oh marble counter tops, you will someday be mine!!! Do not warn me that they will wear poorly or get stained! I care not!
or maybe her garden, which was equally divine:
Oh Hollywood, come do over my house/yard/wardrobe!
How about you - anything you have seen or read lately that has begat a lustful thought in your head re: fashion and decorating?
*******
This afternoon, we found a wee little hummingbird dead in our garden. Oddly enough he was on top of the gazebo at the side of our house (the same one we ate in, GF). At first we thought he might just be stunned and as per advice on the internet (what DID we do before the internet?) we placed him in a bed of kleenex propped up next to a little saucer of sugar water. But sadly, he is dead and we will have a little service for him tomorrow (okay, maybe it will just be me...)
I know it is morbid, but I did take a picture as he was so exquisite! It seemed very Victorian of me to do so. Barry says he has gone to see Baby Jesus and I guess he has, as something that exquisite should be in heaven, oughtn't it?
It reminded me of the hymn we used to sing in Sunday School when I was a little girl:
God sees the little sparrow fall,
It meets His tender view;
If God so loves the little birds,
I know He loves me, too.
He loves me, too, He loves me, too,
I know He loves me, too;
Because He loves the little things,
I know He loves me, too.
He paints the lily of the field,
Perfumes each lily bell;
If He so loves the little flow'rs,
I know He loves me well.
God made the little birds and flow'rs,
And all things large and small;
He'll not forget his little ones,
I know He loves them all.
I always thought that was such a sweet hymn and when I was young, it bucked me up quite a bit when things would seem bleak or tragic.
Of course, this cannot be the first hummingbird to die here over the years, but I suspect that now that we are home, we are noticing so much more of our little micro world, this little pageant of nature that plays daily in our own backyard. I will say that regardless of what happens work-wise and my working again and where I will work, I will always feel grateful to have this time to get re-acquainted with this little humble world that I have created. Now I will stop being all
Pat of Silverbush
on you and wish you the most happiest of Thursdays. Stay Safe out there!