I am still as busy as a one-arm paper hanger right now, working very hard to sort out my dad's estate, but I am also getting lots of downtime and rest and I actually slept the whole night through a couple of nights ago!
Today's Style Question is sure to elicit some debate: is clothing with animal motifs a timeless, ongoing aspect of the fashion world, or simply a trend that comes back now and then to varying degrees?
We are all well aware of the critters of 2012: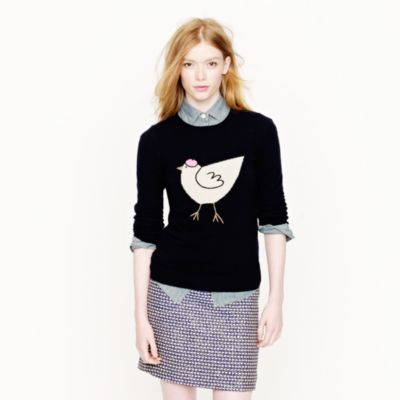 The infamous hen sweater, which launched a 1000 debates....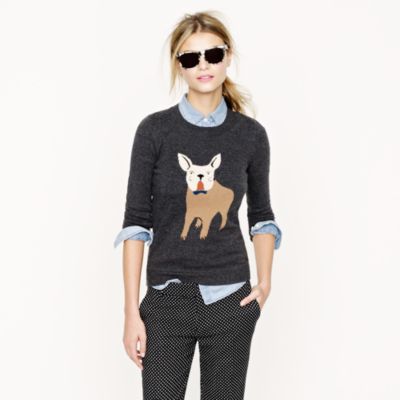 J Crew's Frenchie sweater, not sure I want a dog on my chest, but would wear this for sure!
 Ema sported Old Navy's fox sweater in this
blogpost
in her wonderful My Closet, my baby and I blog. Rynetta, sported a puffin
here
and a cat
here
in her uplifting jcrewismyfavstore blogspot.
Rynetta is also showing the new Madewell Jackalope sweater:
Oh sure they are cute, but how long can it be until the Bigfoot sweater?
THAT
is the sweater i will buy!
I don't have much in the way of animals in my wardrobe. A quirky j crew belt from 08 or 09 with a cute little beagle on the belt buckle:
My giraffe bracelet from this summer:
But nothing really caught my fancy until reading the November issue of Vogue. Chloe Malle, social editor for the magazine (how does one become a social editor? I want that job!), daughter of celebrated actress Candice Bergen and the late celebrated director, Louis Malle, was sounding off on her favourite quirky things. And then there they were: the objects of my animal magnetism: The Charlotte Olympis red suede Kitty loafer.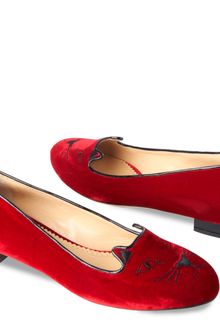 Oh Thank Goodness these appear sold out in my size everywhere! They are an ungodly price and if I were to spend $700 CDN on a shoe, it would have to be something that would see me out, like a classic Laboutin black or leopard pump. I am sure I am late to the game on these, as once I started searching for them, they were everywhere. Charlotte Olympia even has a sweet little Charlotte's Web version:
Given this is one of my most favourite books, and i have the pig to prove it, these would be a delight as well.
And my Wilbur, given to me by my daughter several years ago:
But I digress. Will this cornucopia of critters continue on, ad infinitum, or do you see this as having a shelf life and already on the wane, to be replaced by god-knows-what? And if the trend wanes, will you still embrace your critters, like I embrace my beagle?
Do share! And please pass on other critter costumes for those of us who like our fashion on the wild side! And Tabs, if you recall, Jim-Bob had a pet peacock....
Happy Wednesday and stay safe out there!