Don't cry for her Argentina, but my beloved daughter was forced to take many pictures of the things that finally arrived fron the 25% off sale of a week or so ago. If you recall - we are the colonies and things do take a while to get here!
Where to start? Well let's start with a couple of items i had ordered to go with the purple tie silk pants to try:
The matching flats in the same tomo pink. I was not sure about doing this matchy-matchy thing despite my natural tendency to want to dress like a parade float, but I loved this print and I thought "what the hey" - if they didn't look okay with the pants or looked particularly stupid, I figured there were other things in my closet that would work with them.
I love them! They are comfy, comfy, comfy. The perfect flat for around the house! Last year's henna/green pattern, which I also have, have an elastic gore around the top of the shoe; these do not and are all the more comfortable without it!
A close-up, sitting on my unmade bed!
and I wore them the other night with my dahlia lolli pants of a couple of years ago:
I would wear these as well with my toothpick jeans, black trousers, navy minnies. Of course, it is too cold now to wear these out of the house, but they could easily travel with me in my little shoe pouch and be put on when I get to a nice dinner party! I would wear them with a little navy or black dress to make them more fun.
So these are a keeper and you can get yours
here
at the inevitable next sale!
Ah, but I needed something on top, and that's where things started to go very wrong....
(cue dramatic horror music and wailing babies)
editorial aside - daughter demands you not look in her closet!)
The handknit popcorn sweater in heather pond. You can see it below:
I KNOW better than to order/buy this type of sweater, lovely though it is. Why?
1. A short sweater with that much texture is never going to look good on me ever. I need to listen to that Taylor Swift song "We are never getting back together" - I probably looked good in this kind of sweater in 1970. 'nuff said.
2. Heather versions of any colour look terrible on me. I need clear colours, not colours with greyish or brownish undertones.
It is a beautiful sweater, but you can get a sense of the "muddiness" of it below:
I think it is very well made however, and for you lovely little dolls out there who can withstand those extra bumps and lumps, this sweater will be a delight for you! Sadly, mine is going back.
The next item, is the heavyweight silk bow top in frosted plum. My friend Tiffany Rose wore it spectacularly in the ivory colourway
here
in her delightful blog, A Trail of Sequins.
Me? Not so much:
I like you all so much that i am willing to post this picture for the betterment of humanity at my own, humble, expense. My dauther was horrified. I could have gone up to a size 8, which might have helped, but realistically, this was not going to work, as none of these blouses have worked well on me to date. I don't actually like this colour on me either. I think I need a purple-ier lilac. Back it will go and it can talk to the heather pond sweater all it likes en route back to Lynchburg about the nasty woman who gasped when she put it on!
Mary Poppins has taught me that a spoonful of sugar helps the medicine go down, so I will now share some things that did work:
Same crazy pants, but with a lovely soft black merino sweater. Calms it all down in my opinion, but would love yours.
And things I bought that get to live with me:
The thermal waffle henley with gold buttons. The buttons scared me, but I liked the colour, which is described as vintage burgundy. These are cozy shirts and I didn't mind the gold one bit as I think it looks nice with the colour. I see me wearing this a lot when it gets cold and you can buy yours
here
.
Next up is a blouse I have been looking at for ahwile, the collection leopard blouse: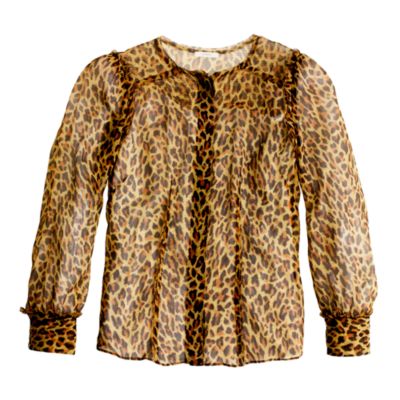 Get it for 30% off until end of today here
It was on final sale for awhile, but as soon as that ended I pounded.
I reallt like this, and am wearing it hear with my Ralph Lauren trousers and chocolate brown suede donald pliners. Look Ma! I am mixing patterns!!!!!
I am wearing a black cami underneath as it is sheer, which you can see below:
The tag describes it as an inside out blouse, which it is - all of the seams are on the outside. This might bother some, but I find it quirky and different. It is a lovely chiffony silk and very well made.
A close-up of the seams so you can see what you are getting yourself into! This arrived at $113 CDN after the sale, and it is well worth it.
Below, I am wearing it more casually with my jeans, a vintage tippi cardigan and the pumps again:

Apologies for no makeup; I am still REALLY bone tired, but I wanted to get these up before the sale ended!
Finally, I ordered the navy dream cardigan to wear with the new fair isle leggings, which I absolutely love and which will be my go to "play" pants around the house and for long winter walks. I could have gone down a size to a small in these if I wanted them tight and I may order another pair a size smaller when they go on sale eventually.
They are actually baggy on my skinny legs, but I am keeping them a bit large for lounging in the house as these were bought purely for cuteness/comfort factor. You can see them from the site below:
You can buy them
here
and the navy dream cardigan is on sale
here
for 30% till end of day. I know many hate the dream sweaters for their pill factor, and i only have a couple, but since they were bought purely for casual wear and since I am finding the j crew cashmere is also pilling a lot these days, for $50, I am okay with that. They are very cozy!
Hope these reviews help! I still have the plaid skimmer pants coming from the factory site and will post a pic when I get them, though I think others have great pictures of them up as well!
Have a happy and restful Sunday! Stay safe out there!