Happy over-the-top-Tuesday, in which I model my Christmas pants!! Yes, the factory skimmers are in and they are beauts!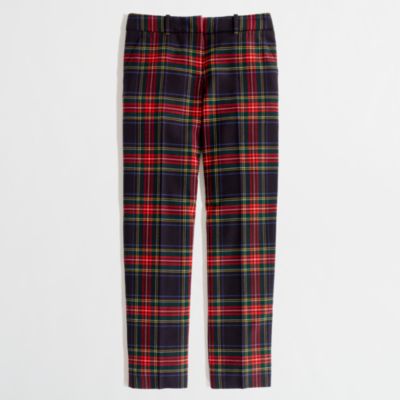 Others have modeled them before me, but none have have taken the time to show you the versatility of these babies! They, are my friends, the perfect Christmas pant.
Sequin tshirt, plaid skimmer pants, and green velvet loafers - simple and sequin-y - you know, for when you are throwing a cocktail together for your mates who have just dropped in to bring a gift. Do not feign false modesty - you look fabulous and they SHOULD bring you a gift!
Ah, but then you trade out the sequins for your red Judith and Charles blouse, your bling-bling cardi from last year in dark poppy and little red Joe Fresh faux viv flats, because you are going to make cookies or rum balls. No nipping too much rum mind you! You will of course need an apron...Is it a coincidence that my nose seems red?
Or you decide to watch "White Christmas", so you slip on a navy velvet tshirt and get all cozy!
Or you put on a lovely white blouse and head to a christmas concert or the symphony.
or you put your hair up, put on a green tshirt and get all cozy reading a good book! Perfect pants!!!!
What do you think?
The other thing in the factory box was the grey snowflake tshirt: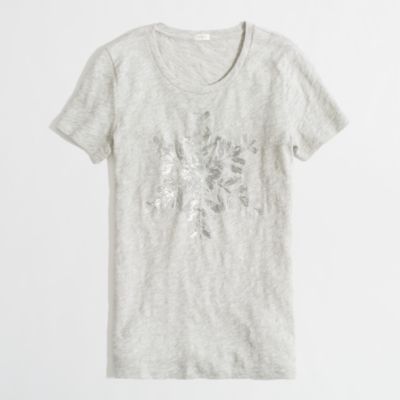 Others have commented on the oddness of the sequins, which are not really sequin-y. It is more like a foil print on the t, which I kind of like, but then I grew up in the 60s and there was still tinsel on the trees!
I decided to pair it with new purple pants and my pale lilac lightweight cashmere cardigan:
Are those Lulu sequin ballet flats from 2011 on my feet? Why yes, good eyesight!!! They are indeed!
So that is the factory box!
And now, I am going to totally rip off Miss Dani's brown polka dots pants outfit of a week or so ago:
Little faux fur jacket, elie tahari tshirt and my chocolate velvet Talbot platform heels from a couple of years ago:
Unpainted toes - the horrors! They will be nicely painted tomorrow!
And dressed down, with my neon fuchsia tippi and leopard loafers on the weekend. Truly a lounge pant!
So there you have it - plaid pants that will see you through all of your holiday events and my own little homage to Dani. Happiest of Tuesday all! Stay Safe Out there!