Happy Friday!
I of course wrote this post two days ago, since today is my dad's funeral, but these posts have been very nice for me to do and have been a welcome break from crafting the eulogy. Depending on how the latter is received I may post it and a couple of pics of my dad tomorrow or Sunday.
But today is for more frippery than formality. And since it is Miller time Friday at Dani's and I KNOW I will be having a drink for sure today, I think my drink du jour will be yellow tail shiraz. Yes, I know - yellow tail is not a fine wine, but it has happy memories for me as my dad discovered it one winter we took him to the Gulf of Mexico, and he drank gobs of it while sitting on the balcony of our condo watching dolphins going by! Super fruity and guaranteed to turn my nose red from the sulphites, but happy nonetheless!
But as always, I digress....
The current Collection Lookbook online seemed to really pique my interest this fall. As you know, I have already pre-ordered the peri flats to try and have drooled over other items, including that tweedy dress. I was particularly taken with the pink crepe dress (sorry - I can't take a screenshot of it as it appears on the website. It appears that is a technical skill which I currently lack, despite reading the technical directions many times online. I blame it on my genes, which have predisposed me to reading, writing and drinking red wine, skills which will only be really useful if I need to play the role of Fran Lebowitz on Broadway, which by the way, could happen) because it was, well, pink.
So I called J Crew yesterday and asked for the item number, which is 29216. She told me that the dress won't be released until December, but this morning it is online for ordering: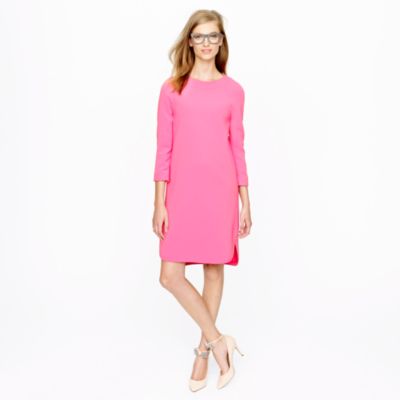 Another aside - I had blue cat eyed glasses from 1968 to 1975. I did not realize I was a trendsetter! I swear to God that the Sartorialist will have a post today "So you're thinking about blue glasses" or "So you want a pink dress"!!!
The view from behind: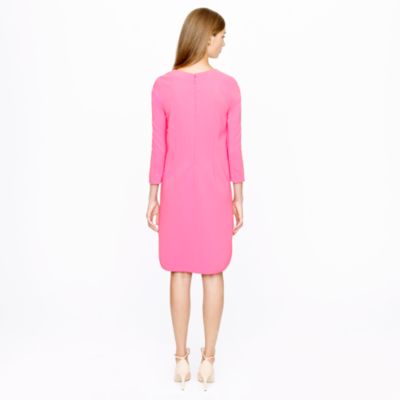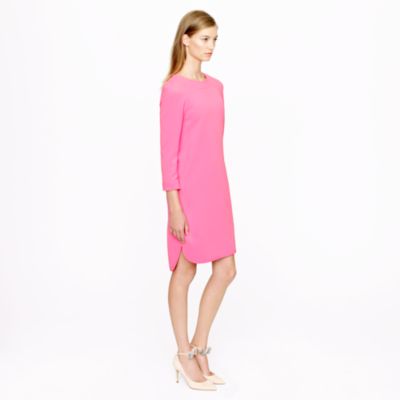 I was unsure how I liked the shirt tail like hem, but the more I look at it, the more I like it.
The description:
The season's most brilliant hue meets meticulously tailored minimalism in this new wardrobe essential. Our design team chose sleek crepe for its amazing ability to absorb color, engineering a have-to-have piece with a seamless structure and a clean drape.
Triacetate/poly.

Long sleeves.

Back zip.

Straight skirt.

Falls above knee.

Lined.

Dry clean.

Import.
While it falls above the knee, it is clear that it
just
falls above the knee and for a shorty like me, might need to be hemmed so that it does fall above the knee.
The one downside is that this is an acetate/poly blend. I am, however, willing to overlook this because I think I will look like a million bucks in this pink dress! I am waiting for a regular price sale (which I assume will be around the American Thanksgiving) and then I will pounce. I really like the shoes, but I am "shoed out" and don't really have a need for sparkly bow shoes this holiday season! At least the dress I can "dress down" with a blazer or cardi and wear to work.
Happy Friday and thanks again for your support this week - you are now part of the "family" to me! Stay safe out there!
UPDATE!!!!
Tabs directed me to the net-a-porter UK site which describes this dress as the "crepe mini dress"!! Ack!
It looks considerably short on the net-a-porter site than the JCrew one 0 in fact on most of the net-a-porter pictures, it looks mid-thigh!

I will be checking with my VPS as well, as mid-thigh is not for me! Crossing my fingers that the british version is shorter for those mod hotties over there and that the colonies have a longer version, but not holding hope!! Darn - will be looking elsewhere for my pink dress if that is the case!