Hi All,
I may be a bit sporadic for the next few days. My beloved dad, who is 81 and lives in a nursing home near where we live, has taken a turn and we think he may be taking the journey to be reunited with my mum. We'll see how today goes. I know you will be wishing me well and I appreciate that!
I still hope to get a picture of the sillk tie capris up this weekend in the purple. Suffice to say - if you are thinking about them, grab them on the 25% off! They are buttery soft and lovely! I even ordered the matching flats to go with them (not the heels, I am going to pair them with either my silver or black pumps, both of which look smashing with them!) While I will do a full review of these on the weekend - I would say their matches are pale pink, silver, lilac, navy and black. Sure, a white blouse looks good as well, but these are not pants for fuschia or other bright colours. On the web site photo in the collection area they almost seemed to have a blue tinge - they do not!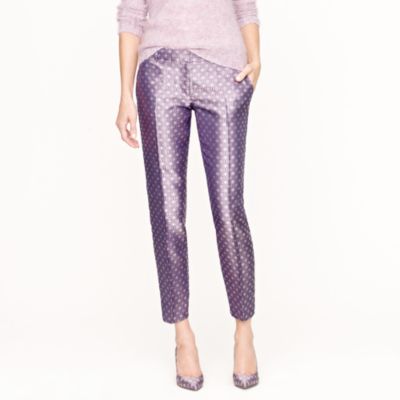 Which is a nice segue into this morning's rollout! J Crew retained the 25% off for one more day, which is kind of them, as I actually like a lot and plan to do some Christmas shopping for my family before I head back to see my dad in a couple of hours!
I have actually seen a few things I liked and a few things that scared me this am!
The likes:

They actually show this paired with the purple pants and I may order it this morning. Trying to decide if I want it slightly slouchy. I think I will go with my regular Medium and see. The ivory is lovely as well and I am a sucker for a popcorn knit. Scottish roots?

 The lambswool diamond sweater has something really retro cool about it, IMO. It makes me think of apres ski parties and sweaters my mum had in the 60s. It is only $107 CDN, so is pretty reasonable with the sale!
The Bling-Button Cardigan in Deep Violet:

 I have this sweater in red and silvery grey from last season and really liked - for the price, is a fun sweater!
The velvet tee in Admiral Blue:

 This is pretty, but when I look at it in the shopping cart, it looks VERY short and boxy, which is too bad!
How about the Chiffon top in sail pink? If I hadn't just gotten the lilac bow top on sale, I would have scooped this up! It also comes in fuchsia and navy.

 I also kind of like the velvet dot ponte top:

 Or the Three-quarter sleeve beaded top?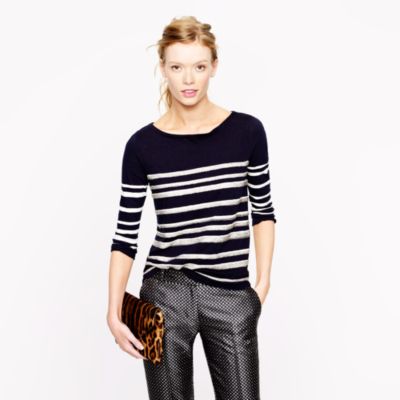 Tiffany Rose, pick it up here!
 For those with very deep pockets, or whose partners have been naughty indeed this year and want to make it up to you, I give you two dresses which I think are divine. First up: The Collection Printed Floral Shantung in smoke: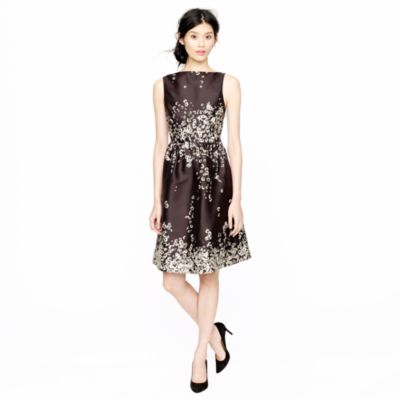 Get your rightful desserts right here
At $600 CDN, he has been naughty indeed! But you are worth it, are you not??? If I did not already have a lovely dress for the Mr.'s 50th fete, this would be in my cart and checked out already. Dani - I am pretty sure this it calling to you or Ema...
Likewise, if he has been that bad, or you have been THAT good, really, don't you deserve the collection tweed coat dress? I do!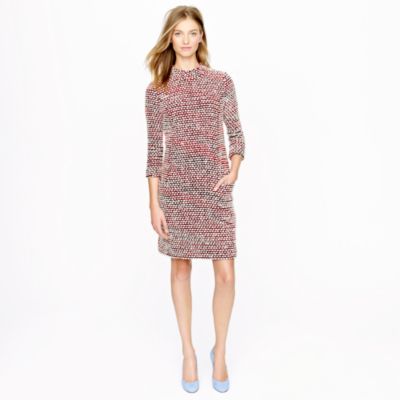 Gulp, for $694 CDN buy it here
For pure whimsy and for my 20 year old daughter who can get away with this, how about the sequin rhino sweatshirt? He is divine. I think Nigel would like a sequin rhino to ride....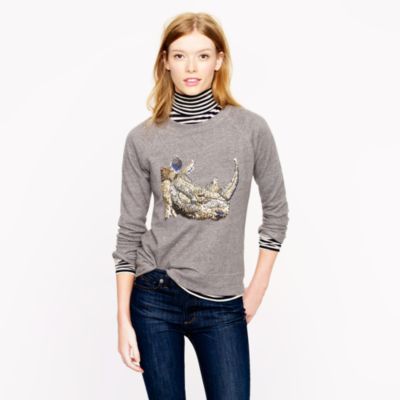 Get your rhino here. Doesn't that sound like something Hemingway would have said?
The No. 2 pencil skirt in dot brocade in navy would be a lovely treat for you! When this one goes on sale, I expect to see it in my closet! Rynetta - I am thinking of you and am hoping for a review soon!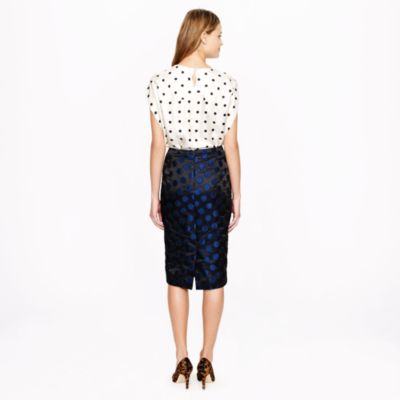 Get your dots on here
 I am not sure if I love these capris or not, but I am inexplicably drawn to them. It could be that they are mushroom coloured and I love mushrooms: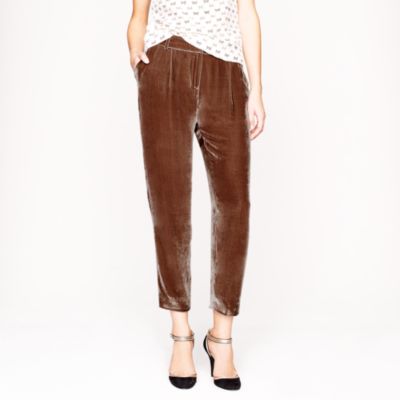 Hmmm, Mushroom,,,, here
I actually have a pair of Talbots pumps that are remarkably like these new one from JC and I could see these as being so comfy around the house entertaining or just lounging..
And two things I am going to ask for from himself (actually my VPS is going to keep a list of 5 or 6 things I would like to have and then he can just call her and I will get a surprise as opposed to just buying my own gift!)

 I think the pave hearts necklace is just sweet! and I think I would need the matching bracelet: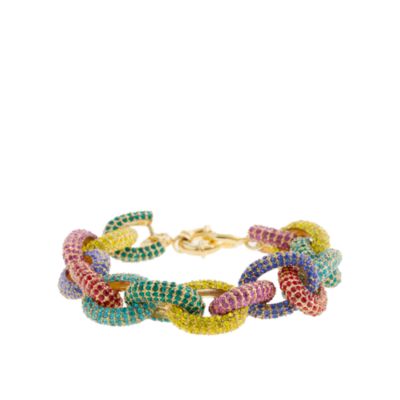 How cute would this look on me? I agree!
Okay. things that kind of scared me:

Get your plaid on here
 I like the tartan. But I don't like it with a gold heel. I think if this was a ballet, it would be fun. But not for me otherwise...
And please check out the fancy pants section
here
(#7), where Gayle had paired the following three items: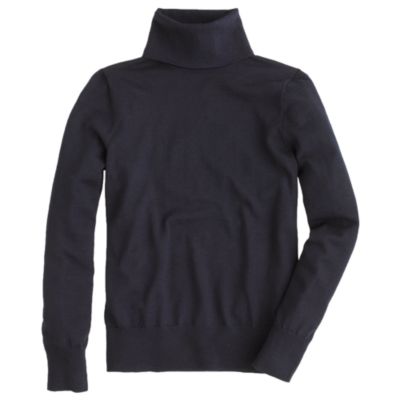 +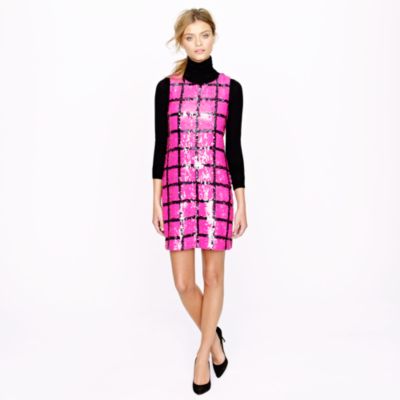 +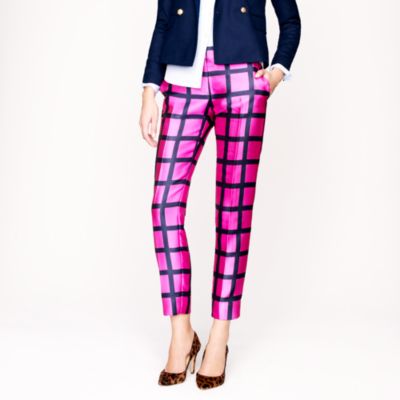 Really Gayle? REALLY? If I was going to be appearing in a Bollywood movie (which BTW I would love to do!) this would be my outfit of choice. Can you imagine that shift over the pants? I think sometimes she does this to be controversial and if so, she certainly gets my buzz!
What I expected to see and did not: red glitter flats. Back to ebay for me. I am not going to try and justify why I want them. You know why! I also liked the plaid capris, but the factory version are a much more reasonable price for how much you will wear them each year!
There you have it! My picks and now I am off to order gifts for husband and daughter!
As for Miller time, Dani, I will be tired when I get there, but I plan to drink white rum and water tonight, the drink of choice of my dear dad. Have a great day all and stay safe out there!
And for all of you with vets in your family or in your family tree or just in thanks, I leave a little token of my remembrance - We thank you!