Well today is August 21st. Our favourite retailers, via the web and big thick glossy magazines, are wooing us with their wares, tantalizing us with their stylings, their colours, their vision for us.
And you KNOW I am not immune to the siren calls of the fashionistas, who loll upon the rocks in their burgundy lips (which is apparently the NEW! look every fall..), camel coats (INVESTMENT SHOPPING!) and IT bags. If Summer is bohemia, Fall is Christian Dior New Look.
You just KNOW that this, or a variation thereof, is the sartorial catnip of our Septembers:
Virevolte suit, Christian Dior, Autumn/Winter 1955
Put it with booties and patterned tights, and away you go!
But I cannot move to Fall yet. I am not yet done with Summer. Not because of the fine weather that still is with us. No - I am not done with Summer yet as there are lessons still to be learned from the Wendy Summer 2013 collection.
I remember the heady early planning days, when I imagined how I would wile away my summer, resplendent in so many delights....
Remember this red Lauren shift? I wore it twice so far. It seems that I forgot that I was no longer working and would therefore not search out a shift dress regularly...
How about the black linen dress?
Wore it once. Ditto the reason...
Bought this blazer from J Crew - wore it twice:
Mint sequin cami? Once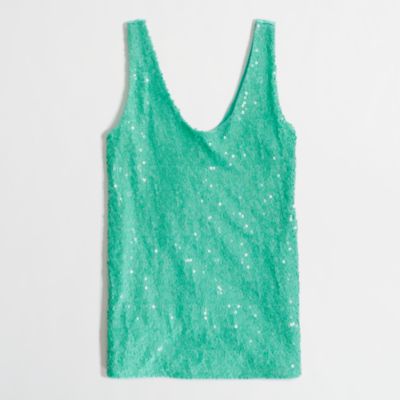 Now some of this you could blame on my current state of transition. You would be right. Some of this could be blamed on an overly-optimistic image of drinking in trendy clubs or dining in fine restaurants. You would be right. Some of it could be blamed on a rainy summer. Yup, that, too.
But the reality is that I am still a work in progress in defining my stay-at-home style. I still have an extra 15 lbs on my body, and I refuse to feel uncomfortable in anything.
So what did I wear this summer?
Well, I wore this little Theory jersey dress quite a bit, along with the Michael Kors black Tstrap sandals:
A Navy J Crew tshirt and a Gap linen skirt recommended by Ema.
And the following two piles of clothes:
1) pink/white pile:
And Navy/Blue/Black pile:
All in all, it turns out I wore about 30 articles of clothing in June, July, and August...
I was captivated by light pinky or white/creamy hues, which I only spiked with my Nougat London dress in the watermelon shade. The light nectar J Crew lightweight cashmere cardigan was worn constantly.
As was the little top of unknown origins with its sweet birds that reminded me of a happy painting...
My nougat London top, white J Crew linen skirt, ivory café capris, pink glittery sweatshirt..
A little cotton H&M top..
The Blues were pale as well - my pale blue blazer, my jeans, my nougat London boho top, my floral A line cotton skirt...
Blue sweaters, silk top...
Black café capris, gap silver maxi skirt, grey and black jersey skirts and tops from Fig and Horny Toad...
Oh sure, some others things were worn - like tees and tanks. The VERY odd pair of pants, my Anthro moto cardigan.
But really, if you happened upon me at all this summer, this is what you would have seen me in.
30 items (plus work out duds and the odd jackets and of course loads of little shoes and necklaces and earrings...).
I looked at the rest of the things in there and divided them into reasons they were never worn:
1) too dressy/corporate
2) didn't feel like "me" anymore
3) slightly tight - I refused to wear anything that didn't fit perfectly
4) didn't have any "occasions".
Then I looked again at what I did wear against the recently completed Style Statement that I mentioned last week, and picked out a couple of key points that I thought related best to clothing:
Creative:
They live to express themselves in their own way.
Nostalgic:
They put creative thought into their home and appearance and love trying their treasures and good finds together with contemporary basics. Attracted to the whimsical and the precious, Nostalgic had a great eye and hear for detail and seeks to fill life with the small pleasures that matter most.
And while everything shown above may not EXACTLY fit into those descriptions, they are certainly REMINSCENT of them.
So now, I believe I have a sense of what worked and what my mistakes were this summer. Many things I got rid of along the way - some things I will put away at the end of the summer and see what next year brings. Some of the dressy or fun things will have their place in the sun at some point no doubt, and a black linen dress is always a lovely thing for the inevitable sombre summer event. But in the end, I still basically only wore 30 items.
So in addition to the colour story that we discussed yesterday, my fall purchases, and decisions as to what to keep or not keep of what I already have will be based on:
1) does it fit?
2) is it comfortable
3) is it flattering?
4) do I love it?
5) am I actually going to wear it or have I just seen someone I like wear it or a jcrew/anthro/whatever label model wear it and think I need it to?
6) does it fit with my style statement - which in the end should be linked to #4....
Sorry to be long-winded! Hope this little exercise has helped someone else as well as they think about fall.
In the end, we must style ourselves. This review has helped me realize what my new style is.
Tomorrow is J Crew's September roll-out, and I am sure I am going to have something to say about that....
Have a great Wednesday and stay safe out there!!!