Yes, last night there was an INCIDENT.
Thank god it was me that did it, because it is the kind of thing you forgive yourself for rather quickly but torture your family about for years to come. I spilt a half glass of red wine on the white carpet in the back room/my new office while hopping about while two of my friends went through my old work clothes to take home a big haul. We have salted and vinegar-ed and baking soda-ed and blotted and am now going out this morning for carpet cleaner.
Sigh.
will take pictures later today so you can see how it all turned out....
But I am thinking about other things today...
1) Like I no longer know who's who in popular culture...
No - I am not a complete luddite, but I would say that about 60% of the time now when I hear someone talking about some young celebrity I have NO idea who they are. And unless they end up in an Academy Award winning film, I never will know who they are.
Usually, they are on some reality TV show that I don't watch. My kids don't watch them either, and yet they know who the person is. And then there are all the shows with young teenage girls that get me all mixed up and which my husband and I call the 'Pretty Little Vampires" shows:
Do you know these people? Nope - me neither...
And unless they are a wildly popular music group, I do not know what I am hearing on the radio. And when I do discover them, they already have two albums and their hit is at least a year old. I am quite sure I am the last person to discover Mumford and Sons.

we had to wait a LONG time for you Wendy - where the hell were you?
When I was 21 (the age of my daughter), I knew who everyone was in popular culture. Now I know unpopular culture - I can tell you who is playing on 40s on 4 or 70s on 7 on XM radio, I can wax philosophic on current events, I read books about gardening. Oh I am happy, all right, but I suddenly realized this week that the torch of knowing that stuff has been passed and I am well and truly ensconced in middle age.
That's okay - cause I hope to be able to say that today I am the middle aged woman who knows how to get red wine out of white sisal carpet...
2)
Egypt
I don't know about you, but watching the news coming out of Egypt is so sad and scary. Yesterday's Day of Rage resulted in at least 60 deaths and it is scary to watch the country imploding. In the end, it is the innocent Egyptians who are harmed by all of this and I am hoping (but not hopeful) for a resolution soon that stops the bloodshed.
3) Robin Thicke's Blurred Lines
Nope - we are not going to talk about the provocative video. The story this week is how much the song Blurred Lines is reminiscent of Marvin Gaye's song "Got to Give it up".
You can listen to the two versions and read the story
here
.
What do I think? I think there are some definite similarities. However, I think that in the creative process something sometimes gets in someone's subconscious that they may not even be aware of that impacts what they create. Is that plagiarizing? I don't think so. My experience (such as it is - remember, I am the Queen of Unpopular Culture) is that hip-hop music samples a lot and always pays homage to what they sample, so I would be shocked if Pharrell Williams in particular was to sample Marvin Gaye's work and not acknowledge it. However, what do I know? Will leave it to others to decide. Me? I like both songs. I do kind of wish Blurred Lines would get out of my head however...
Oh and have I mentioned that I just "discovered" Pharell a couple of months ago on
The Voice
? Yes I did and he is awfully cute...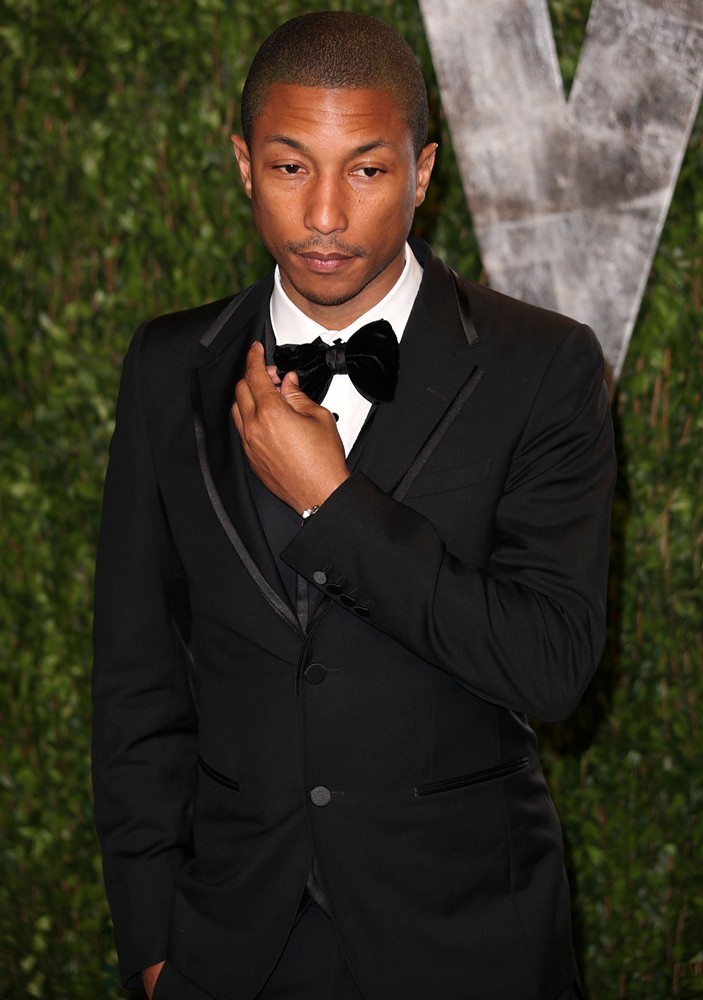 And that is all for me for today. I am off to Walmart to buy carpet cleaner. As I always say: CARPET DIEM!!!
Or maybe that is CARPET TERSUM?
Oh well - say a little prayer for me...
Oh and we are going to friend's for dinner. Hope I have a better clasp on my wine there...
Have a fabulous Saturday and stay safe out there!