I am quite sure it was our heroine
Blue Booby
who told me about the Diana Vreeland documentary
The Eye Has to Travel
. So of course when we came across it on Saturday night, I insisted that Barry and my daughter watch it, since it had the
BB Seal of Approval
.
Well, I knew about Diana of course, but they did not. And of course we all fell in love with her by the end of the documentary.
Her life was a who's who and a what's what of the 1920s through to the 1980s.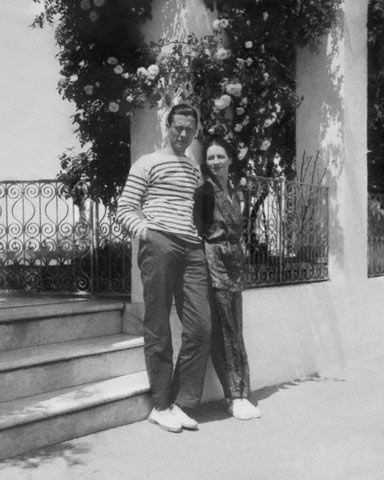 Diana and her husband, Reed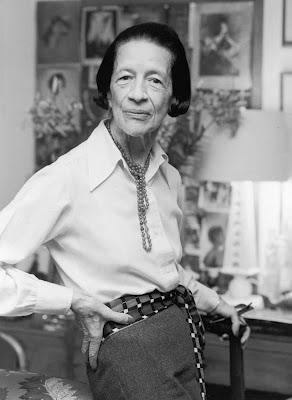 Apart from interviews with colleagues and people who's lives she touched, the film contains a remarkable voice-over of interviews with Diana herself done by George Plimpton.
You get the sense that Diana threw herself into everything, except perhaps motherhood, if one is to base one's thoughts there on the musings of her two now-elderly sons, but I got the feeling that even they could not begrudge this force of nature its true essence.
There is the most
mahvelous
(to quote Diana!) website devoted to her:
http://www.dianavreeland.com/
- chock-o-block with goodness and information.
There are also wonderful books to be found:
http://www.amazon.ca/s/ref=nb_sb_ss_c_0_14?url=search-alias%3Dstripbooks&field-keywords=diana%20vreeland&sprefix=diana+vreeland%2Caps%2C158
I think I may order a couple myself!
In the end, the documentary is the thing and so worth it to curl up with a cocktail and just immerse yourself in Diana.
There is a wonderful snippet of an interview with the filmmaker, Lisa Immordino Vreeland, her granddaughter-in-law (who actually never met Diana),
here
that will whet your appetite
So thank you BB - one of the best documentaries I have seen in a while and sure to have pride of place on my DVD shelf beside
The September Issue
!
Probably just below the picture of James Dean...
Happy Tuesday and have a safe day out there!